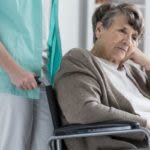 Spinal cord injuries are serious and complex, and there are many different factors within the muscular and nervous systems that may be affected. Each spinal cord injury is unique, affecting victims differently and for varying lengths of time. At best, a spinal cord injury may result in temporary back pain. At worst, it can leave victims completely paralyzed. People often make assumptions about spinal cord injuries without knowing the facts. Here are five surprising details about spinal cord injuries:
1. MEN SUFFER MORE SPINAL CORD INJURIES THAN WOMEN
Out of all 450,000 people living with spinal cord injuries in the United States today, 82% are Men between the ages of 16-30. Most of these injuries were the result of motor vehicle accidents, accidents involving violence, or falls. Many people speculate this gender disparity is due to men taking more risks than women, behind the wheel, during fights, and in sports activities—but there is no scientific evidence to back up this theory as of yet.
2. SPINAL CORD INJURIES TURN OFF THE INNER THERMOSTAT
When people suffer an injury to the spinal cord, they might find a difficulty in regulating their body temperature. The spinal cord is used as a conduit between the brain and the body to communicate when it's experiencing fluctuations in temperature. Without this function, the brain cannot tell the body to turn the sweat glands on or off. Alicia Reagan, a popular blogger that was paralyzed in 2009 commented: "It takes a very, very long time to warm up if you get cold, and it takes a very long time to cool down once you have cooled off. There are tricks that you learn such as a hot shower to warm up, or cold compresses on your neck to cool down."
3. PARAPLEGICS AND QUADRIPLEGICS CANNOT COUGH
Spinal cord injuries affect the muscles in the walls of the chest—not just a person's limbs. Virtually everything becomes paralyzed below the level of the spinal cord injury. According to BranandSpinalCord.org regarding paralysis "the abdominal and chest muscles can also be affected, resulting in difficulty breathing, coughing, or clearing the chest." Respiratory failure is one of the main causes of death among people suffering spinal cord injuries, since they cannot cough up phlegm when they are ill.
4. YOUR LEGS CAN SOMETIMES STILL MOVE
Many people hear "quadriplegic" or "paraplegic" and assume these spinal cord injuries result in no movement in the legs whatsoever. However, the nervous system enables leg movement even after severe spinal cord injury. Paralyzed legs can shake, move, and spasm on their own at any time without the victim's control. Also, according to Spinal-Injury.net, "the amount of movement and sensation you have will depend on which parts of the spinal cord have been damaged."
5. SPINAL CORD INJURIES RESULT IN LESS BODY HAIR
Researchers connect the rate of body hair growth with something in the brain that provides feedback to the hair follicles. They are not sure why, but something about spinal cord injuries often leads to less body hair on the head and elsewhere. Most people suffering from spinal cord injuries notice their hair thinning, or hair loss, a few years after their injuries.
6. YOU CAN GET HELP FROM A PROFESSIONAL SPINAL INJURY LAWYER
If you have suffered a spinal cord injury in an accident due to someone else's negligence, you can recover not only compensation for your medical bills, but also lost wages, lost earning capacity, pain and suffering and more. Spinal cord injuries can occur in auto accidents, pedestrian situations, slip and fall, work accidents, plus many more. An experienced spinal injury lawyer can help you get comfort and justice.
GET A LOS ANGELES SPINAL CORD INJURY ATTORNEY TO DEFEND YOU!
You can speak with a Los Angeles spinal cord injury attorney at Grey Law about your spinal cord injury, and discover your legal options moving forward.
Contact Grey Law here or call them at (323) 471-0568 today!