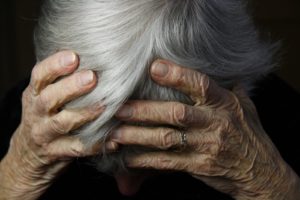 He Survived the Battlefield, But Not the Senior Care Facility
A decorated military veteran who fought valiantly for his country survived his scars from the battlefield. However, he met with an untimely and unimaginable death at the hands of one tasked with his care, Cristina Canimo. She has been formally charged with murder and torture. The criminal Complaint alleges use of a box cutter, a knife and other tools used to kill the deceased. In a show of utter disregard for humanity, Mr. Ronald Clarke was completely stripped of his dignity by being dumped in a trash can.
In addition to charges against Ms. Canimo, Sunbrook Residential Care's owners, Ronald and Ramona Sykes, have been charged with several crimes including elder abuse, wrongful death and negligence in hiring and supervision of employees. The Complaint alleges that their abusive actions were intentional. The couple ran three, licensed senior care homes all of which have been shut down since this tragic incident. Whether or not they should have been opened at all is up for debate given that these facilities have run afoul of State inspections since 2015.
Although this case is an extreme case of elder abuse, elder abuse in senior care facilities is commonplace. The National Council on Aging estimates that there are as many as five million cases of elder abuse each year. And seniors are often abused by those who should be caring for them, including their own children.
If your loved one was killed in an accident at a California senior care facility, you should consult the expertise of a wrongful death attorney Los Angeles who can advise you of your rights. A Los Angeles personal injury attorney that is not only knowledgeable in current applicable laws, but is highly skilled in its application to your case. The wrongful death lawsuit lawyers at Grey Law will use their expertise and experience to get justice for your loved one, and get the compensation his family members deserve.
If your mother or father is a victim of elder abuse in a senior care home, don't try to resolve it on your own when competent legal help is available. A Los Angeles injury lawyer is available to get this resolved in a court of law. If the abuse resulted in their death, then you can trust that a wrongful death attorney Los Angeles at Grey Law will be there for your family's legal needs at this critical time. A Grey Law death lawyer in Los Angeles has a proven track record of success for their clients.
The sudden and unexpected loss of a loved one due to an accident is a very stressful time for the family. The compassionate yet adept wrongful death lawsuit lawyers at Grey Law will fight rigorously for you in the courtroom. If your loved one was killed in an accident or seriously injured, then a Los Angeles injury lawyer or death lawyer in Los Angeles can help.