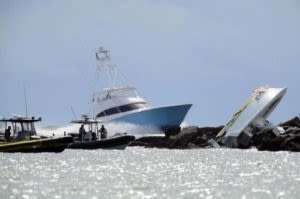 A great day on the water can turn into a tragedy in an instant. Accidents might occur with jet skis, small boats or yachts. Those accidents might result from activities like unsafe operation, swimming, tubing or water skiing. Even passengers inside of a boat can be seriously injured. In the context of recreational boating accident injuries and fatalities, the law of negligence typically controls a case.
Common Causes of Boat Accidents
Obtaining compensation through the law of negligence is a complex endeavor. If you were injured in a boating accident around Los Angeles, you'll want to retain an experienced and effectiveLos Angeles boat accident lawyer to represent your best interests. Here are a few of the most common causes of boat accidents:
Hitting high waves at the wrong angle at excessive speeds.
Leaving a perfectly safe harbor with heavy weather approaching.
Failing to have the appropriate number of life jackets on board.
Overcrowding on a vessel.
Passengers falling overboard.
Failure to have an understanding of the rules of navigation.
Collisions with other boats or fixed objects.
Hitting people in the water with the boat and propeller.
Operating a boat while under the influence of alcohol, drugs or both.
For purposes of ensuring the safety of their own passengers and others on the water, the person at the helm of a boat has a legal duty to operate that watercraft in a reasonably safe and prudent manner. He or she must maintain a proper lookout for other watercraft, people in the water and hazards to navigation. According to our boat accident attorney Los Angeles, a breach of that duty that causes personal injury or death is likely to result in a determination of liability and an award of monetary damages. Those damages can include past and future medical bills, lost earnings, any permanent disability or disfigurement, pain and suffering, diminished enjoyment of life and other substantial damages in the event of a wrongful death.
If you were severely injured in a boat accident, or you lost a family member in one, contact a Los Angeles boat accident attorney from our offices as soon as possible. If our personal injury lawyer Los Angeles
is retained to represent you, no legal fees are even due unless we obtain a settlement or award on your behalf.