File a Clam With a Newborn Birth Injury Attorney Los Angeles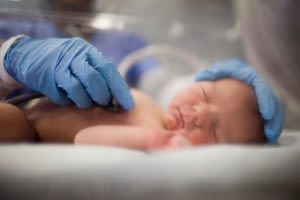 A preventable birth injury can completely alter the course of a baby's life. While some birth injuries are unavoidable, many occur when health care practitioners fail to follow standard care practices. If you suspect your baby was diagnosed with a disability or wounded because of birth trauma, contact a trusted attorney. Our team is committed to helping families recover after these serious and irreversible birth-related incidents.
The rate of birth injuries in the U.S. is about 6-8 injuries for every 1,000 live births. That may seem like a low number until you consider that almost 11,000 babies are born in the country every day. Several of these injuries are highly preventable, and those responsible must face the legal consequences of their actions.
You can count on us to represent you at every step of your journey, from finding qualified medical support to securing fair compensation for your child's injuries or death. We can't undo the harm, but we might be able to stop others from enduring the same fate.
A PERSONAL INJURY ATTORNEY YOU CAN TRUST
Attorney David Grey has been offering legal services for over 35 years. We've proudly recovered millions for clients across Los Angeles and specialize in practice areas, including birth injury and medical malpractice claims. When clients choose our firm, we immediately establish their case to recover total compensation for mothers, their newborns, and family overall. We provide a personalized approach for each client. Whether you need to recover from short-term or long-term complications, we're here to help!
CAUSES OF PREVENTABLE BIRTH INJURIES
Some disabilities don't form naturally in the womb. Instead, they occur due to the physician's failure to recognize symptoms or to act accordingly during the delivery process. Some of the most common injuries associated with birth injury personal injury cases include:
Erb's Palsy
Cerebral palsy
Fractures
If your child experiences an unexpected injury before or after delivery, don't assume that it was unavoidable. Pay close attention to the medical process, take notes, and see another medical professional for a second opinion. If you think your child got hurt as the result of a C-section mistake, a delay in treatment, improper diagnosis, problems with delivery tools, or a preventable lack of oxygen, reach out to an experienced personal injury lawyer in Los Angeles. With a careful investigation, your attorney can help you take action against any negligent parties involved in your newborn's injuries or death.
LATENT SIGNS OF BIRTH INJURIES
Some birth injuries aren't diagnosed immediately after delivery. Weeks or months later, a parent or health care provider may start to notice abnormal behaviors or other indicators that serve as signs of a possible birth injury. Contact a pediatrician if you have any concerns about your baby's development or behaviors, and look out for these symptoms of birth injuries:
Your baby arches the back while crying
You notice more lethargy than is normal for a baby during their developmental stage
Your baby is overly sensitive to light
Your baby has seizures
You see unusual difficulties when your baby suckles and swallows
You notice health symptoms such as persistent coughing, the inability to gain weight, jaundice, or a low heart rate
Your baby's movements are weak or abnormal
Your baby consistently fails to meet development milestones
Like many ailments, these symptoms get associated with health conditions—not just birth injuries. Work with your health care practitioners to determine the root cause of your baby's symptoms over the first few years of life. Diagnoses in keeping with some of the most common birth injuries, such as a form of palsy, may indicate the need to look back at delivery practices.
TYPES OF BIRTH INJURY CASES
Birth injuries can result from many reasons, but when they get caused by a healthcare professional, you have the right to pursue justice and compensation for your child's birth injuries. There are several types of birth injury cases that can occur, including but not limited to:
Erb's palsy
Infant brain damage
Persistent Pulmonary Hypertension (PPHN)
Anoxia
Hypoxia
Bone fractures
And more
RELATED ARTICLES ABOUT BIRTH INJURY
TRAUMATIC BIRTH INJURIES
Unfortunately, some women go through a very traumatic experience giving birth, resulting in severe birth injuries to their newborns. When this happens, the results can be extremely devastating and can lead to a lifetime of surgeries, endless pain, and extensive medical bills.
At Grey Law, we want families to know that we are here to help every step of the way. Traumatic birth injuries can occur due to negligence or carelessness on the part of the healthcare professional during delivery from excessive force, misuse of labor-inducing drugs, mismanaging fetal presentation, facial nerve injuries, and more.
WHAT PARENTS SHOULD KNOW ABOUT BIRTH INJURY CASES
If you experienced a complicated or harmful birth and are worried that your child may have sustained a birth injury, we understand that you may have concerns regarding the situation. These legal cases can get stressful, as the safety of your child is paramount. A knowledgeable lawyer can help significantly. As a parent, you should be vigilant of certain factors if you believe your child at risk during birth.
FREQUENTLY ASKED QUESTIONS ABOUT BIRTH INJURIES 
What is a birth injury?
Birth injuries happen during the process of childbirth. As the baby goes through the birth canal, a lot of pressure gets placed on the body. Injuries may cut off oxygen or cause minor to severe harm. Keep in mind that most damages are preventable – meaning the doctor probably made a mistake during the mother's pregnancy or delivery.
What is the difference between a birth injury and a defect?
A defect happens to a baby before birth during the pregnancy. In most cases, it is a genetic concern that would have occurred regardless of what happened during childbirth.Birth injuries get caused by a natural or negligent mistake during delivery. In a legal case, childbirth injury lawyers in LA would need to prove that had something not gone wrong, it would have never happened. Clients often sue for birth injuries, not defects.
How common are birth injuries?
Studies show that for every 1,000 babies born in the U.S., five will get injured during childbirth.
What should I expect to happen during the legal process?
The process will not be easy for you and your family – but we will do everything possible to ease your burdens. Each case we represent has its own set of unique facts per California law. We recommend meeting regularly with a legal professional if you are unsure of the procedures or process overall.
Who will receive money after a successful lawsuit?
Our attorneys aim to settle before your case goes to court. But, if your newborn is living with long-term damage from an avoidable birth injury, the damages awarded will go to the child in the form of a trust. Parents can also receive compensation to help with medical expenses and tend to emotional distress.
REACH OUT TO A SPECIALIZED LOS ANGELES BIRTH INJURY LAWYER
Birth injuries are frightening for new parents and may have long-term consequences. After a preventable injury, you deserve the opportunity to seek closure, justice, and fair compensation. At Grey Law, our attorneys and lawyers fight for your family and your child's current and future needs. We have experience holding obstetricians, RNs, hospitals, and other responsible health care professionals accountable for their acts of malpractice.
Contact our office today in Los Angeles for a free case evaluation. You can fill out the contact form on this page or call us at 323-673-3655.