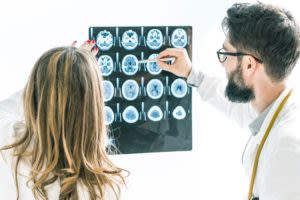 Some of the most serious and disabling injuries that we see here at Grey Law are traumatic brain injuries (TBIs). This type of injury is most often caused by a traumatic blow to the head, but it might also be caused by a victim's head being violently and abruptly shaken. Here are some of the types of accidents that are the leading causes of traumatic brain injuries:
Motor vehicle crashes involving cars, trucks and motorcycles
Bicycle and pedestrian accidents
Construction and industrial accidents
Slip-and-falls and trip-and-falls
Falling merchandise from warehouse stores
Dangerously defective products
Tread Carefully
California law doesn't require you to cooperate with the insurer of the person who caused your TBI. Be cautious. If you try to proceed without us representing you, it's likely that you'll make mistakes that will harm any claim or lawsuit that you might have. Those mistakes can cost you thousands and thousands of dollars. That's not going to happen when we're representing you. We'll properly preserve and invoke your rights so that we can pursue the maximum compensation that's available for your TBI.
Contact Us
If you or a family member suffered a TBI, you're already experiencing the expense and emotional consequences of the injury. If the injury was caused as a result of the carelessness and negligence of somebody else in or around Los Angeles, you'll want an experienced and effective brain injury attorney Los Angeles from the Grey Law Firm representing you.
TBI Symptoms
If you suspect that you might have suffered a TBI, it's of paramount importance that you get to an emergency room as soon as you start experiencing any of the following symptoms:
Unrelenting headaches
Dizziness and unsure balance
Nausea or vomiting
Sensitivity to bright light
Diminished coordination
Seizure activity
Compensation
After you or your family member has suffered a TBI, you should contact our offices to arrange for a free consultation and case evaluation with a Los Angeles brain injury lawyer from the Grey Firm. He or she will listen to you carefully, answer your questions and address your concerns.
Don't just contact any personal injury lawyer Los Angeles about a TBI. Speak with an aggressive and respected Los Angeles brain injury attorney at the Grey Firm as soon as possible after seeking medical treatment for a TBI. We promise to answer your questions and advise you of all of your legal options.