Free Consultation With a Fall Injury Attorney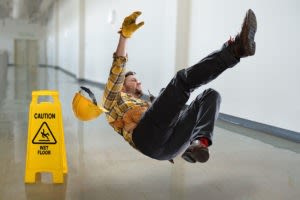 Our Los Angeles slip and fall lawyers understand that falls are consistently the leading cause of accidents. They account for more than 1 million injuries each year in the United States. Slip and fall accidents fall under the legal category known as premises liability. When property owners fail to keep their buildings, parking lots, and walkways safe and secure, they create a risk of injury.
WE GET RESULTS FOR OUR CLIENTS
When you get hurt on someone's property, chances are the owner owes you compensation for your slip and fall injury. Personal injury attorney, David Grey, has been in business for over 35 years. Since he started his practice, the firm has recovered millions for our clients.
We aggressively fight for our clients and provide them with excellent legal representation. From the time you retain our services, we begin investigating and building the foundation of your case. Instead of worrying about legal fees, we encourage you to focus on recovery. Grey Law operates on a contingency fee basis – meaning you won't have to pay anything until we win your case.
WHAT IS A SLIP AND FALL ACCIDENT?
Slip and fall accidents occur when an individual trips and/or falls on a hazard. The National Center for Injury Prevention and Control estimated that in 2004, more than 8 million people got injured in falls. There is no precise way to determine when someone else is legally responsible for your injuries.
In a personal injury lawsuit, lawyers would assess when, where and why it occurred. It might happen because of:
Abrupt changes in flooring
Severe weather and wet conditions
Poor lighting
Hidden hazards
Each case depends on whether the property owner maintained their premises to avoid accidents and if victims share negligence.
INJURIES ASSOCIATED WITH SLIP AND FALL ACCIDENTS
Most people seldom think of slip and fall accidents as life-threatening. But it can have a devastating impact on your health regardless of age. At Grey Law we have experience helping clients pursue compensation for several types of injuries. A few of them include:
Back sprains
Muscle strains
Spinal cord injuries, nerve damage
Bruises and cuts
Fractures and broken bones
If you sustain injuries in a slip and fall accident the first thing you should do is dial 911 or seek emergency treatment. When you're able, reach out to a personal injury attorney to schedule a consultation. You don't want to wait too long to bring a claim against the negligent party in California, as you will lose your chance after two years.
Whether the injury was minor or severe, it has the potential to impact your quality of life. At Grey Law, we want to ensure you get maximum coverage and following these steps can significantly improve your chances of winning. We can also recover non-economic damages like emotional trauma.
PROVING LIABILITY AFTER A SLIP AND FALL INJURY
In most cases, a person injured in a slip and fall accident on someone else's property must prove that the cause of the accident was a dangerous condition and that the owner or possessor of the property knew of it. To do so, the following should get demonstrated in court.
The owner/possessor created the condition.
The owner/possessor knew it existed and negligently failed to correct it.
Slip and fall accidents are very complex and often challenging to prove. A thorough understanding of premises liability laws is crucial to successful legal representation. The owner and occupier have a responsibility to exercise a duty of care.
In court, they will assess whether you, the visitor, fit into one of three categories. These types are invitees, licensees, and trespassers. Depending on why you were on the property helps us figure out their degree of responsibility.
INVITEE
An invitee is a person who gets invited to conduct business with the possessor. For example, shoppers are invitees to department stores to purchase merchandise on its premises. Property owners owe invitees the highest duty of care.
LICENSEE
A licensee is a person who is present for a non-commercial, non-business purpose at the consent of the possessor of the property, such as a social guest at someone's residence.
Property owners owe the lowest duty of care to trespassers. Property possessors have no responsibility to warn trespassers of dangers naturally occurring on the premises.
In California, premises liability law requires that property owners must safeguard children regardless of whether they are supposed to be there or not.
HOW TO PREVENT SLIP AND FALL ACCIDENTS 
Owners and operators of properties and businesses must take extra precautions. Some of the best ways to prevent a slip and fall accident injury claim are:
Routine Maintenance Upkeep
Use Of Carpet and Grip Materials on Slippery Floors
Mark Handicap Entrances and Exits
Adequate Lighting Inside and Outside the Premises
Sufficient Cleanliness
Secure Electrical Cords and Wires
Avoid Obstacles Near Walkways
Establish Safe Practices
Stay Alert of Changing Weather Conditions
SUPPORTING ARTICLES ABOUT SLIP AND FALL CLAIMS
FAULT IN A SLIP AND FALL ACCIDENT 
Whether you are at work, in a store, or in a church parking lot, you may unexpectedly slip and fall. If you do, there is a chance you will suffer serious injuries that might be costly. Luckily, you can file a personal injury suit to gain compensation for your damages. But to do so successfully, you will need to prove it was the negligence and carelessness of others that caused your accident.
To prove liability, you will need to demonstrate that the property owner:
Caused the situation that led to your accident
Knew of dangerous conditions but failed to address them
Should have enacted repairs or other measures
Your attorney will be able to help you craft an argument that puts fault on the owner.
FACTS AND STATISTICS ABOUT SLIP AND FALL ACCIDENTS 
According to the latest statistics, these accidents put more than 1 million people in the emergency room each year. Per day that adds up to nearly 3,000 people needing medical treatment for various types of serious injuries, the most common being broken bones. Since many people who do slip and fall do not initially seek medical treatment, their injuries often wind up being far worse. Always get immediate medical treatment to protect your health and guarantee your injuries get noted in your medical records.
WHAT IF YOU SLIP AND FALL ON GOVERNMENT PROPERTY?
A personal injury lawsuit can get filed against a negligent government entity. Government entities at the federal, state, and local level have placed strict procedural requirements on people who wish to file injury claims against them.
To prove that the government organization was negligent, you must show that someone in authority knew or should have known about the unsafe condition that caused the accident and your injuries, which your attorney can help you establish.
SLIP AND FALL SETTLEMENT EXAMPLE IN CALIFORNIA
If you want to see what a slip and fall lawsuit looks like from start to finish, check out our page detailing one woman's quest for compensation. Angela, a performer, was at a pool party when she tripped on a lawn sprinkler and tore her ACL. Her injuries were so severe that she had to cancel her upcoming tour, for which she had already sold tickets. How much is she compensated in court? Check out our article to find out.
FREQUENTLY ASKED QUESTIONS ABOUT SLIP AND FALL ACCIDENTS
What are the steps to take after a slip and fall accident?
Your fall may be traumatizing both mentally and physically; however, following the steps below strengthen your chances of getting maximum compensation.Get Medical Attention: Any fall has the potential to seriously injure someone, even if they slip at ground level. A surprising number of victims end up in the emergency room despite not falling from an elevated height. No court or insurance company will take your word at any point without medical records.Inspect The Scene: Take photographic evidence of the scene, including multiple angles of whatever made you fall.

Identify Witnesses: The right witness can make your case. Our fall injury attorney in LA can use two types of witnesses: Eyewitnesses who watched your injury happen, whether they're professional or not, and expert professionals who can add their expertise to the case.

Make an Official Report: All reports should include the date, time, and location of the injury, as well as conditions and actions surrounding the accident.

Hire a Powerful Injury Lawyer: An attorney is the best bet to get maximum compensation. A law firm can appoint you with an attorney that has dealt with slip and fall cases before.

What is the statute of limitations in a slip and fall case?
The statute of limitations for a slip and fall accident is usually two years. The clock starts ticking the day of your injury, and if you do not file by the end of the two years, you may miss the opportunity to file your compensation claim.
How much is my slip and fall case worth?
That is a question that we hear often. Understanding how much you could recover is part of the legal process.Sadly, there is no clear answer until you schedule a consultation with a legal professional. During our case evaluation, we can review what occurred and how the injury impacted your life. Medical bills and lost wages are two of many damages we can recover.
Cases vary per client. Injuries range in severity, and that can impact how much plaintiffs can recover in a lawsuit.
What if the property owner was a family member or friend?
If you fell on a family member's property – or even a friend, things can get complicated! We understand you want to preserve the relationship, and you can. When you file a claim, you're going after their insurance, not directly after the owner. Property insurance protects them and you financially after an accident.
What happens if I get hurt at work?
If you slip at work, you should file a workers' compensation claim to pay for your medical expenses and replace lost wages. You might be able to bring a lawsuit (outside of your employer) if the accident occurred from negligence.
LOS ANGELES SLIP AND FALL ATTORNEY
If you or a loved one has gotten injured in a slip and fall accident, contact the Los Angeles personal injury attorney at Grey Law today. Our attorneys have the experience and the resources to successfully represent plaintiffs injured on unsafe property in Los Angeles and the surrounding communities. Call us today at 323-210-4504 for a free legal case evaluation.