Suing on Behalf of Your Child's Damages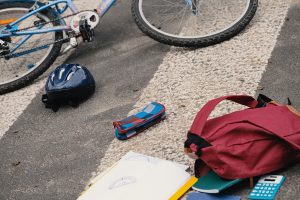 Screeching brakes, shattered glass, and buckled metal – the experience of a car accident can damage an adult physically and mentally, but for an impressionable child, being involved in a car crash is even more traumatizing. If your child is injured, or worse, in a car accident, you need to file a claim with a lawyer for claims involving minors to get justice.
A scary factoid is that car crashes are a leading cause of death among children in the United States. A child's little body can be seriously damaged by the sheer impact of a collision, and if they weren't protected by any safety features, the bodily damage can be even worse.
An accident injury attorney in Los Angeles will tell you that California child safety seat violations have a legal fine of $100 for the first offense, and if your child was not properly restrained at the time of the accident, then you have a major argument for negligence.
The damages in a school bus accident can be catastrophic, especially since children usually do not wear the seatbelts provided. A lawyer for child injuries at school in Los Angeles can tell you that pursuing a case against your child's school, if it's a public institution, is a more challenging issue since you will be suing your state's school board.
Since your child is a minor, the parent needs to pursue legal action on their behalf with an attorney.
Filing a Claim on the Minor's Behalf
Filing a lawsuit on a minor's behalf is a very complex issue with more stipulations than the average car accident lawsuit. In California, a person must have "legal capacity" in order to file a lawsuit, and children are not included in this list. An older adult must act on the child's behalf as a "guardian ad litem" in order to participate in a lawsuit.
The guardian ad litem can be a parent, grandparent, guardian, or friend. In cases with larger damages to recover, there is more at stake, and those close to the child may pose a threat to the case due to conflict of interest. It is not uncommon for a professional fiduciary to be appointed as the guardian ad litem. This can be a professional hired by the state of California, or it can be your attorney, who will be well-versed in the needs of a minor following a serious car accident.
In order to file a lawsuit on a minor's behalf, the party, usually the parent, seeking to appoint a guardian ad litem must complete Judicial Council Form CIV-010 and give it to a judge for approval.
Court Approval
Lawsuits on behalf of minors are subject to more approval than the average lawsuit.
Filing a Judicial Council Form CIV-010 is free of charge, but it must be reviewed and approved by a judge before the lawsuit can move forward with an approved guardian ad litem at the helm.
Even after the lawsuit is filed and a settlement is reached, you must seek a judge's approval again. Your attorney must present your settlement to a judge, who will then hold a hearing to approve or deny it. Either party is usually not required to attend these hearings.
The idea of seeking third party approval of a settlement already agreed upon by the parties involved may seem superfluous, but the third party review is necessary for the child's best interest. A judge will review the settlement to make sure it is fair and reasonable.
Recoverable Damages
As part of the settlement, your child can recover damages for any losses they suffered as a result of the accident. Damages commonly claimed in car accident lawsuits are:
Hospital Bills and Any Future Medical Treatment for Their Injuries
Pain and Suffering
Mental Anguish
Loss of Future Income
The damages you recover are meant to reimburse you for the medical bills as well as compensate for your child's future suffering.
In events where gross negligence was shown, you may also get punitive damages, which are additional financial charges meant to ensure that the negligent defendant acts with more care in the future.
Distribution of Settlement Funds
The compensation awarded in the settlement is technically given to the minor. Sometimes, the money will not be available until the child turns 18. Other times, the money is put into a trust where payments are structured to be distributed each year for a certain period of time.
Since medical treatment is happening while the child is a minor, you'll need compensation before they turn 18. Talk with your legal counsel about including a clause about compensation for medical expenses in your settlement.
Claims involving minors are more complex and subject to heavier scrutiny than the average personal injury claim. You'll need a confident and experienced attorney like Grey Law on your side for the legal battle that is soon to come.