How to Move Forward After A Construction Accident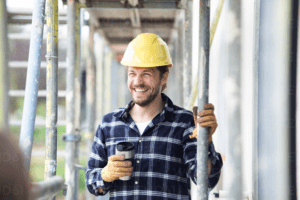 In 2017 the Occupational Safety and Health Administration (OSHA) reported 20% of more than 4,000 worker fatalities came from the construction industry. Of those fatalities, nearly 50% were due to falls, which occurred from tall building structures, scaffolding, stairs, or ladders to name a few. Construction workers face unique hazards on the job, whether it's on a construction site or building a residential home. When homeowners make a choice to hire a contractor and supporting crew to renovate and repair their home, what they often fail to realize is their liability for the injuries that happen.
As a general contractor, you have a responsibility to oversee the construction project and the crew. But what happens when you get hurt in an accident? Under premises liability, a homeowner can be sued for injuries you sustained on the job depending on the circumstances of the project and how the injury happened. To determine liability, it might be helpful to know more about the issue at hand, what to do if you or a sub-contractor get hurt, and when it is best to retain a Los Angeles personal injury attorney.
What is a General Contractor?
For those that are unaware, the term 'contractor' is used across various industries. In construction, the general contractor is responsible for overseeing the construction project and engaging in a legal contract with the property owner. Although they have a direct relationship with the owner of the premises, the amount of control a homeowner has during the project determines their legal responsibility if the contractor gets injured.
Homeowners That Do Not Have Control of the Project
It is common for homeowners to hire a licensed contractor to upgrade their kitchen or change a roof. When it comes to home maintenance, most opt for having a long-term investment that saves everyone time and trouble. From a contractor's standpoint, once a job is accepted, the homeowner will step out the way until the project is near completion. The homeowner operates under expectations that the construction crew will adhere to all safety standards. There is a mutual understanding that if the contractor or sub-contractors do not and it results in minor to severe injuries – the homeowner can get sued for damages as stated in the contract.
In this scenario homeowners only have one responsibility – maintain safe premises for visitors (construction workers). If there are defects in the property, it should be notified to you in advance. As general and sub-contractors, you essentially act as a homeowner's employee under contract. Though, this means you will not be protected under workers' compensation insurance, as you normally would be on site. Instead, your medical coverage is dependent on the owner's liability insurance. Common examples include:
When a property holder fails to clear a sidewalk of debris, which causes a worker to

slip and fall

. He/she can retain an attorney for LA construction injuries for damages caused.

Homeowners who do not disclose information about structural issues, like a faulty front porch, prior to starting a paint job. When the porch caves in painters will need a lawyer to file a claim on the safety incident.
Homeowners Who Have Control Over the Project
Homeowners that have control will be overseeing the construction project, although you will have most of the influence over what takes place. Depending on the project, it might make sense to occasionally hear from their perspective. Though, homeowners who exercise control of daily operations are susceptible to personal injury liability compared to a homeowner that keeps his/her distance. As an "employee" this works in your favor if experience the following injuries due to negligence:
Burns

Electrocution

Eye injuries

Broken bones

Sprained knee, beck or back

Illness from toxic exposure

Head or brain injury
In California, homeowners must provide safe working conditions, as mentioned. A homeowner may actively watch and engage in the construction process, but when he/she gives instructions to sub-contractors and advise you of next steps, they now have an active role in overseeing everyone's safety. Another example is if a homeowner is directing painters working on a certain kind of scaffold. If the scaffold collapses, regardless of proper setup and whether it follows the Occupational Safety and Health Administration's (OSHA) regulations, the owner may be liable for their injuries for simply getting involved.
Homeowner's Insurance May Cover You
As a member of the construction industry, the best thing for you to do when you get hurt is seek legal advice from a Los Angeles attorney for construction injures. Homeowners' liabilities vary per worker and per situation. The extent of coverage will be determined by the severity of your wounds, and the property owner's involvement throughout the project. Construction workers should know, reaching a settlement will not be easy as the defendant will try to refute your claims. In California, the "Peculiar-Risk Doctrine" protects property owners, where construction or repair is being carried out. While the owner should assess the property and notify contractors of potential risks, they can rid liability if the construction worker was acting carelessly – resulting in the injury. Avoid waiting to act! Instead, let us handle your construction accident case.
About Grey Law
"When it comes to getting you more, I won't settle for less." – David Grey
When you or a loved one are injured due to negligence, carelessness, or wrongful acts of another person, David Grey is ready to help. Seeking compensation or negotiating with insurance companies can be stressful, especially while recovering. Let us do that for you. Our Los Angeles personal injury lawyers are well-versed in several practice areas:
Traffic Accidents

Premises Accidents

Personal Injuries

Product Liability

Nursing Home Abuse
Why do you need a lawyer for accident compensation? With thousands of lawyers in California, we understand it can be difficult to choose the right legal representation. We have 35+ years of experience and secured millions for our clients. From the time you retain our firm, we build your case. For a free case evaluation and consultation, reach out to us at 323-768-0497 or email info@greylaw.com.