Who is At Fault For Premises Liability Cases?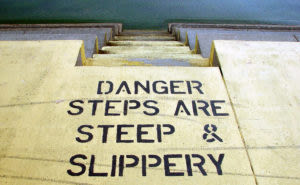 Property owners are responsible for providing a relatively safe environment for people who come onto the property in order to prevent any injuries from occurring. This is known as premises liability, which holds property owners accountable for accidents and injuries that occur on their property. For instance, if someone sustains a slip and fall injury on someone else's property, then the owner may be held liable depending on the circumstances.
If you believe that you have a Los Angeles premises liability claim, feel free to contact us any time at Grey Law. Our team is well-versed in these types of cases and have handled many of them on behalf of our clients. We will do whatever it takes to get the compensation and justice that our clients deserve for their losses.
We understand how stressful the repercussions of a premises liability case is, which is why we strongly urge you to get in contact with us right away.
In this blog, you will learn about how liability is determined in a premises liability claim. A premises liability claim is dependent on the following criteria:
The legal status of the visitor
The conditions of the property and the actions of the owner and visitor
Whether the person injured is a trespasser or child
When the owner and visitor are both held at fault for the injuries
Special rules for landlords
Legal Status of Visitor
Invitee: An invitee is someone who is invited to the property, such as a customer in a store. This means that the property owner is responsible for taking reasonable steps in order to ensure that the invitee is safe on the premises.
Licensee: A licensee is someone who is on the property for his or her own purpose, or as a guest, and is allowed by the owner.
Social Guest: A social guest is a welcomed visitor on the property.
Trespasser: A trespasser is someone who enters the property without any right to do so.
If someone enters the property as is a licensee or trespasser, then the premise liability law does not apply.
Trespassers On The Property
If the property owner is aware of the fact that trespassers may enter the property, then the property owner may have a duty to provide reasonable warning in order to prevent injuries from happening. However, this only applies if the conditions it may cause serious injuries or death.
Children On The Property
If a property owner is aware or should be aware that children may enter the premises, then the property owner must give warning to prevent any injuries from occurring.
Both Parties Are Held At Fault
When both parties are held at fault, this results in several limitations in terms of the property owner's liability. For example, it is always the visitor's duty to exercise some type of reasonable care in order to maintain his or her own safety. However, if that reasonable care is not exercised, this can result in the injured party to be held partially negligent.
Exceptions For Landlords
There are special rules for landlords, which are the fact that the landlord is not held liable for the injuries that were caused on the property. This rule exists because the landlord does not have complete control over the property once it has been leased.
Contact A Premises Liability Attorney
If you or a loved one was injured on another entity's property, you may be eligible to file a premises liability claim. At Grey Law, we offer free, no-obligation consultations and do not charge any upfront or hidden fees. We work on a contingency-fee basis, which means that you do not have to pay a thing unless we win your case.
It is important that you seek legal help as soon as you can, so that we can preserve any evidence that is needed to win your case. We are experienced accident injury attorneys who specialize in premises liability cases and will get you the justice and compensation you deserve for the injuries you endured, medical bills that were incurred, pain and suffering, loss of wages, and much more.
At Grey Law, you can trust that our Los Angeles Personal Injury Attorney will do whatever it takes to get you the justice that you rightfully deserve.