Hire a Los Angeles Pool Accident Attorney For Your Injury Case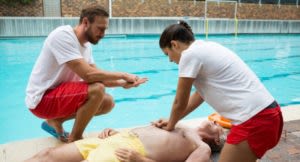 Whether it's from a slip and fall or a dive into shallow water, pools are a common cause of personal injuries. If you or your loved one were injured in a public pool due to someone else's negligence, you should consult with a swimming pool accident lawyer as soon as possible to seek compensation for your losses.
Proving Fault for Swimming Pool Accident Injuries
You can prove a pool owner is liable for your personal injuries by showing they were negligent, meaning they did something wrong or failed to take reasonable action to prevent harm.
Premises liability laws help determine who is liable when someone is injured on another person's property. To be "liable" means that the owner was responsible for causing your accident and, as a result, must compensate you for your injuries.
When homeowners and businesses open a pool to visitors, they are responsible for keeping it safe. All pool owners share a general duty to reduce the risk of drowning accidents and other injuries. Your main task in proving negligence will be to show an owner violated this duty. You can often show a violation by finding evidence that the owner did not correct an unsafe condition.
Unsafe pool conditions include:
Low water levels
Lack of supervision
Inadequate warning signs
Broken glass in the pool area
Missing emergency devices
Faulty or dim pool lights
Exception for Child Trespassers: Attractive Nuisance
Many states carve out an exception to the general rule prohibiting a duty of care towards trespassers with the attractive nuisance doctrine. The doctrine says that a child trespasser can bring a legal claim against a property owner for injuries caused by an unsafe object on the land that "attracted" the child or lured them onto the property.
Duties Imposed by California Laws
California's Swimming Pool Safety Act requires pool owners to follow an even more comprehensive set of rules:
Residential swimming pool owners must install a 60-inch access gate on a pool enclosure with self-latching locks
Owners must ensure that the surface of this enclosure is free of anything that someone can use as a foothold or handhold
Owners must cover suction outlets in a pool with anti-entrapment grates
Operators of public pools must keep surrounding areas well-maintained.
Liable Parties in Swimming Pool Lawsuits
There may be more than one party responsible for the circumstances that led to a serious pool accident. If you file a personal injury lawsuit, it should be against all alleged negligent parties. In addition to homeowners, potentially liable pool owners include:
Governmental entity (municipal/school)
Apartment complex
Waterpark
Hotel/resort
Gym/fitness club
All of these property owners have a duty to make their pools as safe as possible that extends to the pool and the areas surrounding the pool. In some situations, a property owner may also have a duty to warn you of pool-related risks that aren't obvious to the average person.
Waterparks & Theme Park Pools
If you suffered an injury in a waterpark, you probably signed a liability waiver to gain entry into the park.
Injury liability waivers protect businesses against insurance claims and legal action. A waiver attempts to relieve the business of any legal blame for your injuries. Waivers also prove that the company warned you of any potential risks related to their facility or taking part in their activities.
If you signed a waiver, it doesn't mean that you can't hold a waterpark liable for your pool accident or a loved one's fatal drowning.
Government Agency Owned Pools
If you've suffered an injury at a public pool owned by a governmental entity, you should speak with an attorney to file an injury claim; however, the process is more complicated than filing a claim against a private party (with very tight deadlines).
Defective Pool Product Manufacturers
There are times when a component within a pool causes an injury. If a defective pool product causes an accident, then the owner may not be at fault, unless they actually knew there was a problem. The injured victim may instead have grounds for a product liability claim with the manufacturer or installer of the defective product.
Pursuing Pool Accident Compensation
If a pool owner was negligent in causing your accident, they must compensate you for the losses related to your injuries, which include:
Medical bills
Lost wages
Out-of-pocket expenses
Property damage
Pain and suffering
If a pool owner's negligence contributed to a fatal drowning, the decedent's family member may bring a wrongful death lawsuit against the owner. A wrongful death lawsuit is an action filed in court to seek monetary compensation from a person (or entity) whose negligence caused another person's death. Wrongful death lawsuits may be filed by an attorney on behalf of the decedent's next-of-kin, or on behalf of the decedent's estate.
Victim Fault Can Reduce Available Compensation
The injury victim may share responsibility for causing the accident if they were horsing around, ignoring pool safety rules or by drinking too much alcohol.
Alcohol use contributes to swimming pool and hot tub accidents because it negatively influences a person's coordination, judgment, and balance. If you helped contribute to your pool accident, you might still be eligible for injury compensation; however, your payout amount may be reduced.
When You Need a Swimming Pool Injury Lawyer
If you or a loved one suffered severe or permanent injuries, like brain damage or a spinal cord injury, your case requires the expertise of a swimming pool accident lawyer.
Many insurance adjusters intentionally offer less to injury victims and their families when they're not represented by an attorney.
Premises liability claims get complicated when the property owner tries to shift blame for the accident on you or another party. To protect your own interests, and seek compensation from every party who may be at fault for your injuries, contact the Grey Law Firm, where we will passionately and aggressively fight to obtain the best possible outcome for your case.
Top Los Angeles Swimming Pool Accident Attorney
For 35+ years, we've been helping Los Angeles swimming pool accident victims obtain justice and compensation for medical expenses and other damages at Grey Law. Our team is knowledgeable and skilled in personal injury law, successfully representing thousands of our swimming pool accident clients across Los Angeles courts.
If you or your loved one have gotten injured in a swimming pool accident, please don't hesitate to call us today at 323-673-3655 for a free initial consultation and dedicated representation.