Determining Liabilty in Delivery Truck Accidents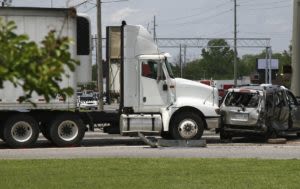 Delivery trucks play an important role in the American economy. They deliver materials to construction sites and they deliver food to stores. Additionally, they take the mail to the post offices, and much more. They do a lot of good for people and the economy, so it can be hard to overlook the bad things that truck drivers can potentially do.
Unfortunately, many people who drive delivery trucks have not received the proper training. The good news is that an attorney with experience handling truck-related cases can help people who have been hurt in an accident involving a delivery truck.
There are many things that companies do that can put people in the road in danger. For example, they may hire a driver who is not licensed. They do this so that they will be able to save money. If the driver is not licensed, then the company will be able to save money.
Drivers are under a lot of pressure to meet the deadlines that have been set and they may not take the traffic or weather into consideration when they are driving. Their main focus is getting to the destination on time. Many truck drivers are extremely exhausted, which puts them at risk for getting into an accident. And unfortunately, some truck drivers use drugs so that they can stay awake.
Another way that companies put people in danger is by putting trucks on the road that have not been properly inspected. Truck companies want to do everything that they can to meet the deadlines. They also want to make sure that they do as much business as possible, which is why many trucks are not inspected and do not receive maintenance before they are put out on the road.
Some of the trucks have serious issues that could have been corrected during a routine inspection. This includes low fluid levels, inadequate air in the tires and malfunctioning lights. A truck that has issues is much more likely to crash.
It is no surprise that getting struck by an oncoming tractor trailer can be deadly. People who have been involved in collisions with delivery trucks often suffer severe physical and mental trauma. The people who have been hurt are not the only ones who suffer — their family members may also suffer physical and mental trauma.
Getting into any vehicle-related crash will be costly. Trucks can do a lot of damage to the property and people are also left with a lot of medical bills. Additionally, many people have no idea how they are going to pay their medical bills because they cannot work due to their injuries.
Anyone who has suffered a serious injury in an accident may be eligible for compensation, which is why you will need to hire a Los Angeles trucking accident lawyer. They have the skills to represent you and get you compensated.
All personal injury cases can be complex; however, truck accident attorneys can be even more complex. It can be difficult to argue without extensive documentation  in court. The plaintiff has to provide a lot of evidence that proves the truck driver acted in a negligent manner; which is why you do not want to try to file a personal injury lawsuit without a truck wreck lawyer.
There are several questions that you need to ask when you are searching for a personal injury lawyer. You will need to ask your attorney the following questions before you hire them:
How Many Truck Accident Cases Have You Handled?
It is always a good idea to hire an attorney who has had several years of experience. However, you should also hire someone who has had experience dealing with your case.
How Many Truck Accident Cases Have Been Successful?
It is beneficial to have experience with several cases. However, the number of successful cases that a person has had is more important.
How Will You Approach My Case?
Your attorney will review all of the necessary documents. They will also review all of the details of the case. After they have done all of this, they should be able to put together a strategy for winning the case. They should be able to outline all of the problems and potential solutions.
How Do You Get Paid?
Personal injury attorneys usually work on a contingency basis. This means that they will not request payment until you have been compensated for your injuries. However, every personal injury attorney should outline the fees. They should also be able to provide you with documentation.
Speak With A Los Angeles Personal Injury Attorney
Our personal injury attorneys will help you with your case. We will be happy to answer any questions that you may have for us. We focus on helping people who have been hurt in a truck accident.
There are several reasons that we make a great choice for someone who needs legal representation. We have great communication skills. Being able to communicate clearly and effectively is one of the keys to winning a personal injury case. We also know that the collision may cause you to suffer a great deal of emotional turmoil, like PTSD, which is why we treat every client with the utmost respect. We will go the extra mile for people. The earlier you get the process started, the easier it will be for you to help us. If you need us to help you with your case, then you should call to speak with one of our representatives.