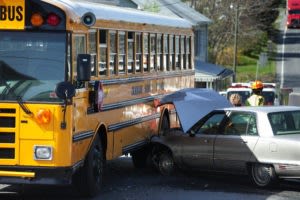 3 Types Of School Bus Accidents
When a parent puts their child on a school bus each morning, they expect the child to remain safe. Unfortunately, that does not always happen. Each year, nearly 140 people were killed in school-bus related accidents, and while some of these are students, others included are motorists, passengers, bicyclists, and pedestrians. When these accidents occur, various scenarios are common in each instance. To help you avoid such an accident, here are the three most common types and how a Los Angeles bus accident lawyer from Grey Law can be of assistance.
School Bus and Motorists
In most situations, accidents involving a school bus and another vehicle colliding with one another. While these accidents can range from a bus being rear-ended by another vehicle to head-on collisions, the results are almost always serious injuries and even deaths. In fact, victims often suffer such injuries as whiplash, back injuries, and broken bones and fractures. Should you suffer such injuries in this type of accident, consult a bus accident attorney Los Angeles residents trust, such as Grey Law.
School Bus and Pedestrians
Whether it involves a person being hit by a school bus while out on a morning walk or a child who is hit immediately after being let off the bus, pedestrian accidents involving school buses account for the highest number of fatalities each year. In most of these accidents, driver negligence and carelessness are to blame. Since it is likely victims will experience serious injuries or die in these accidents, always rely on Los Angeles bus accident attorneys at Grey Law to help you gain the compensation you need and deserve.
Poorly-Maintained Buses
Since many school districts across the nation are scrambling to have enough money to pay for basic services, they sometimes cut corners on various parts of their budget. Unfortunately, sometimes these cuts are on school bus maintenance, and the results can be deadly. Whether it is a school bus driving down the road with worn-out tires or brakes, this lack of proper maintenance can lead to devastating accidents that forever change the lives of numerous families. If you have had a loved one suffer injuries or die due to a school district's negligence regarding school bus maintenance, do not sit back and fail to hold them accountable for their actions. Instead, contact a personal injury lawyer Los Angeles that victims know will fight for them, such as Grey Law.