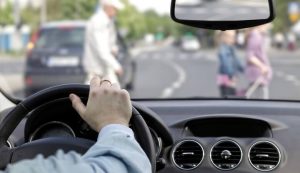 A man at a pedestrian crossing Common Pedestrian Accident Injuries
As you take a walk outside or cross the street, it is important to be just as cautious as you would be while driving a car. Unfortunately, pedestrian accidents occur quite frequently and can have long-term damage. These accidents generally happen when a driver is not paying attention or when the intersections are not designed in a way that prioritizes the safety of the pedestrian. Given this fact, there are a number of injuries that pedestrians commonly experience:
Head: These generally include some type of trauma to the brain.
Internal: Examples are injuries to the brain, bone fractures, or internal bleeding.
Pelvic: This refers to one of the four fractures to the pelvic region.
Spinal cord: These injuries to the spine can cause lifelong damage.
Bones: Impact to the body by a vehicle can result in broken bones in any part of the body.
Deep cuts: These can occur when there is a break in the skin due to injury and can be minor or major.
Wrongful death: In these instances, the pedestrian doesn't survive the accident.
These injuries all make lasting changes and can alter the life of the pedestrian. A pedestrian accident attorney Los Angeles understands that the life of the injured party will likely entail decreased mobility for a period of time and the cost of living will then increase. This is why you should seek the help of an attorney so that you aren't responsible for covering these new costs.
Accidents of this nature can impact people of all ages, but more specifically young children and the elderly. If you or a loved one is injured, you need a Los Angeles personal injury attorney to help get compensation for your injuries. When you work with a Los Angeles pedestrian accident lawyer, they will represent you in front of the insurance company to ensure that you are treated fairly. Contact Grey Law to speak to a Los Angeles pedestrian accident attorney and let us help you get what you deserve.