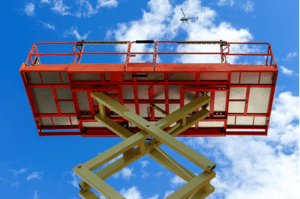 Do you frequently use an aerial or scissor lift at work? We are here to tell you that the best thing you can do is take an online training course, reach out to a site manager, or employer to reduce the risk of getting hurt. The most dangerous industries to work for in the U.S. are industrial, manufacturing, and construction sites. To an extent, aerial and scissor lift accidents are preventable and avoidable.
According to the Center for Construction Research and Training (CPWR), 26 construction workers die annually because of aerial lift accidents alone. Accompanying this research is a report from the Occupational Safety and Health Administration (OSHA). Reports indicated another spike in tragedies, with a high of 10 lift deaths and 20 victims with life-threatening injuries over a year. When you or a loved one gets severely hurt, you should seek immediate medical care and pursue damages with the help of an accident injury attorney in Los Angeles.
Aerial Lift vs. Scissor Lift
Aerial lifts operate similarly to cranes. Multi-jointed sections allow workers to move in various directions for building repair or maintenance.
Scissor lifts are slightly different. The platform rests on crisscross support, giving workers the ability to move up and down. Safety for this type of machinery is vital in industrial and manufacturing environments.
Read on for a few examples of the most common aerial and scissor lift accidents and warning signs to avoid having to file a personal injury claim against your employer.
Touching Power Lines
Accidently hitting power lines is one of the leading causes of injuries and death on aerial and scissor lifts. Electrocution can occur when the machine or an employee directly encounters one.
Always assume that the power line is active. Try keeping a 10 feet distance away and wear proper footwear and attire.
Machine Toppling Over
Unfortunately, aerial and scissor lifts are susceptible to falling over without warning. If the load is off-center or an employee is leaning over, it is not difficult for the machine to drop. A few other reasons may be:
Severe weather – winds are specifically a concerning hazard.
Be mindful of the machine's placement over potholes or related dangers. Uneven surfaces will decrease stability as the machine moves upward or downward.
Getting Trapped Between an Object
Victims of severe accidents usually get trapped standing at the edge of the lift, between an object when the bucket is moving.
This accident is associated with scissor lifts. To avoid it from happening, employees must properly prepare, check equipment before use, and clear everyone away from the machine should an incident occur above ground.
Falling Out
Falling out of an aerial or scissor lift is just as common as the machine toppling over. Anytime workers need to utilize these machines, they should be wearing "fall protection" instead of relying on skills or years of experience. Anything could happen while operating a lift.
Not Following Guidelines
Before using either lift, always take the online training or turn to your employer for assistance. In the end, a lot of injuries and fatalities result from "human error." If you work on a construction site, the site manager is responsible for maintaining a safe work environment and guide you on how to use each lift.
Failure to bring hazards to everyone's attention, not providing the right equipment, or giving an overview of proper lift use is a violation of their duty of care to employees. It could get used against them in court should you need to pursue damages for medical expenses or changes in quality of life.
Our firm optimizes individual skills to produce superior results for all clients. For a free case review, give our Los Angeles construction injury lawyer a call at 323-622-1764 or email info@greylaw.com.