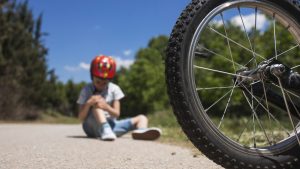 If your child has a minor bike accident that requires a few stitches, you assume there will be no problems with your health insurance paying the bill. However, that may not always be the case. In a recent incident in Carson City, NV, a nine-year-old boy who required a few stitches for some lacerations incurred a medical bill totaling nearly $19,000. If you find yourself having similar difficulties with insurance companies, it's time to talk to a Los Angeles injury lawyer.
How Does This Happen?
As to how this happens, you can thank an insurance technique called subrogation for creating this situation. A situation where different insurance companies dispute which one will be responsible for paying the bill, subrogation can come out of nowhere and leave you and your family with thousands of dollars in unexpected medical expenses. 
Upon consulting a bicycle accident lawyer Los Angeles trusts from Grey Law, you will find hiring a skilled Los Angeles bike accident attorney will be your best way of righting this wrong.
What Policies Could Pay Instead?
When a health insurance company disputes paying for injuries sustained in bike accidents, it is because it believes compensation should be handled by your auto or homeowner's policy. If you are facing a situation such as this, speak to a car and bike accident lawyer Los Angeles clients count on for help in these situations from Grey Law.
Third Party Responsibility
To justify non-payment in these situations, many health insurance companies will instead try to place blame for the accident on a third-party, which would then put the burden of payment on auto or homeowner's insurance companies. However, in the case of the young boy who incurred the $19,000 medical bill, no third-party was involved in the accident. If you try to speak to your health insurer on your own, you will likely get nowhere in your negotiations. Instead, let a personal injury bicycle accident lawyer from Grey Law handle your case.
Claim Forms
After many of these types of accidents, victims are sent a questionnaire by their health insurance company asking for additional information. If you fail to fill this out correctly or don't fill it out at all, you could be jeopardizing your chance to be compensated for injuries resulting from the accident. Sadly, the insurance company is hoping you do just that, since this will give them sufficient cause to deny your claim. Rather than let this happen, turn to a skilled Los Angeles injury lawyer and allow your bicycle accident lawyer Los Angeles negotiate with the insurance company to reach a fair resolution.
After speaking to a car and bike accident lawyer Los Angeles residents rely on from Grey Law, you will discover how important it will be to have a personal injury bicycle accident lawyer on your side when dealing with insurance companies. To make sure you get this matter settled to your satisfaction, consult soon with a Los Angeles bike accident attorney from Grey Law.