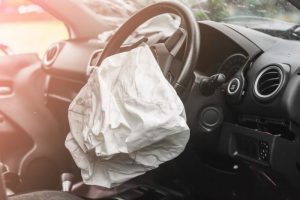 Los Angeles experiences some of the heaviest traffic in the world due to the limited public transportation options and sprawling city. With heavy traffic comes an increased number of car accidents.
There are some unfortunate reasons why the number of car accidents is so high in Los Angeles. Lack of visibility, lack of speed sign placement, broad corridors, and lack of medians are recurring factors in car accidents. 
Despite the city's best efforts, Los Angeles has a growing number of people being injured and killed in automobile accidents every year. The "Vision Zero" policy was implemented in 2016 as a way to reduce the number of traffic fatalities over the next ten years. Unfortunately, the policy has had little effect as the death toll continues to rise.
The statistics regarding Los Angeles car wrecks are pretty grim. According to 2019 traffic statistics, the city had 236 traffic deaths and over 54,000 crashes. This is a 7% jump from the previous year and an even more stunning 32% increase over the past five years.
Even a car wreck lawyer Los Angeles is shocked by these facts because the current data far outpaces fatalities on a national level.
Individuals injured in automobile accidents can seek justice. You have the ability to sue for damages if you are injured, or if a family is killed in an automobile accident. You can also receive compensation for property damage and mental anguish brought on by the event. The key is finding an excellent Los Angeles injury lawyer to help you win your case.
If you are injured due to the negligent driving of someone else, seek out the help of a car injury attorney as soon as possible. Allow them to help you receive the compensation you and your family deserve. A car accident lawyer will protect your rights and ensure your peace of mind is preserved despite the trauma.
Grey Law Firm in Los Angeles has 35 years of proven experience with personal injuries. They have secured millions of dollars in compensation for individuals who have been injured or killed due to vehicular neglect.
The car injury attorney team at Grey Law possesses both the knowledge and resources to investigate the facts and help you get a fair outcome. They completely understand how catastrophic injuries due to vehicle accidents can affect a family, which fuels them to provide the aggressive representation you deserve.
The Transportation Department is working to make roads safer in certain areas where the number of car accidents is on the rise. Until the process is completed, the rise of accidents in Los Angeles will likely continue. This is why having a good car wreck lawyer Los Angeles at your side is imperative. If you are injured in an accident, even if the accident were partially your fault, contact the Grey Firm today for a free consultation.