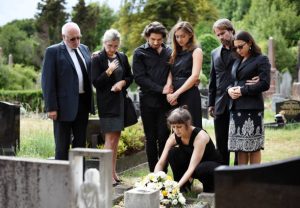 Insurance Companies In A Wrongful Death Claim
When a loved one is killed in a vehicle accident, the impact to your family can be devastating. Along with losing emotional support and daily companionship, there is likely a loss of income. As a result, it is crucial to make sure you and your family are aware of and receive the benefits to which you are entitled. In most instances, if your deceased family member had auto insurance at the time of their death, your family will be entitled to a variety of benefits. However, to ensure your claim is properly handled, turn to a wrongful death attorney Los Angeles residents know and trust, such as the one at the Grey Law Firm.
Personal Injury Protection and Survivor's Benefits
With most auto policies, surviving family members are entitled to between $10,00-$35,000 in survivor's and personal injury protection benefits. These can compensate for lost wages, child care, home repairs, and other expenses. Unfortunately in some instances, an insurance company may attempt to claim the deceased person's policy did not include the $10,000 PIP coverage. But unless the company can produce written documentation from the insured person prior to their death, this compensation must be paid to the family. If your insurance company is disputing this, contact a wrongful death lawyer Los Angeles residents know will protect their rights, such as at the Grey Law Firm.
Uninsured/Under-insured Motorist Coverage
When you file a wrongful death claim Los Angeles lawyers at the Grey Law Firm will examine many things. One of the most important involves UM/UIM coverage, which will pay benefits to your family if the at-fault driver had minimal or no insurance coverage. Since this can be a complex aspect of wrongful death claims, always rely on the Grey Law Firm to guide you through this confusing process.
Don't Accept the Insurance Adjuster's Opinion
For many families who are dealing with the sudden loss of a loved one, one mistake they make is accepting the opinion of the insurance adjuster. However, this person is not on their side, and is trying to save the insurance company as much money as possible. Rather than make this mistake and lose out on the compensation you and your family deserve, turn to a Los Angeles personal injury lawyer at the Grey Law Firm. By doing so, your legal rights will be protected, and you and your family will gain the compensation you need and deserve.