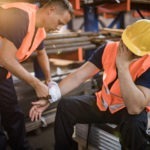 In every state, employers must provide a safe and healthy workplace environment for their employees. However, there are times when employers fall short of this standard, which leads to employees suffering from workplace injuries. Even if an employer provides a safe environment for their employees, there is still a chance that an employee can become injured while responsibly carrying out his or her work duties. If you have been injured on the job in California, it is best to consult with our work injury attorney to find out the best course of action.
What are My Legal Rights if I was Injured at Work?
If you have suffered from an industrial injury, you may be able to file a claim and receive benefits through the California workers compensation system. An industrial injury occurs when an employee is hurt while performing his or her job duties. It is important to act diligently after you have been injured at work because California law states that an individual who suffered from a workplace injury has up to one year to file a worker injury claim.
Your legal right to workers compensation benefits can cover the cost of medical care, future medical treatment, and lost wages. The benefits for workers compensation falls into the following categories:
Temporary Partial Disability
This type of workers compensation is for those who have suffered from debilitating injuries that do not leave them totally disabled. An example includes an individual who suffered from a back injury at work and is no longer able to perform his or her normal job duties. Temporary partial disability is structured to provide compensation that makes up for the difference between what the individual made before his or her injury and what he or she is capable of earning after the injury.
Total Temporary Disability
An individual is entitled to receive total temporary disability benefits when the workplace injury left him or her unable to perform any type of work for a certain time, which may include instances when employees have broken bones at the workplace.
Permanent Disability
Employees who have been injured at work and are permanently limited to the type of work that they can carry out may be able to qualify for permanent disability. This type of compensation can be permanent disability or permanent total disability. If an employee becomes paralyzed after a fall at work, he or she could seek permanent disability benefits.
How a Workplace Injury Lawyer Can Help
It can be overwhelming if you try to file a work injury claim without the help of an experienced workplace injury lawyer. An attorney can help you complete the claims process and may be able to negotiate a higher amount during the settlement process. If you are in need of a personal injury lawyer in Los Angeles, the legal experts at Grey Law have more than 25 years of experience helping those in the L.A. area.