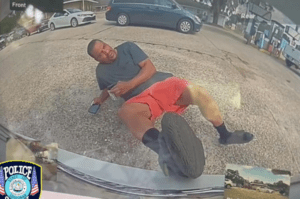 A 47-year-old man living in Louisiana has been arrested for lying about his car accident injury. Arthur Bates Jr. told police that a Tesla driver hit him in a busy gas station parking lot. Little did he know the Tesla had a 360-degree camera system, which saved the driver from a hefty lawsuit.
A video of the incident has surfaced across social media. It depicts a man in red shorts and slides (Bates) standing behind the Tesla. He then runs toward the reversing car and attempts to fall back. His expressions and demeanor insinuate he is in pain as he lies on the ground. The driver waits for a moment and proceeds to leave.
While there may not have been a reason for the Tesla driver to stay, a car accident lawyer would have advised remaining at the scene of the accident. Suppose the camera hadn't been working or failed to capture the incident. Obtaining contact information from nearby witnesses would have provided a safety net should a lawsuit arise.
Bates claimed he had sustained leg, neck, and back injuries from the electric car when police officers and first responders arrived. Keep in mind that his report is without an official diagnosis from the doctor. Any medical professional can spot a falsified injury. That is one of many signs a police officer would assess.
When the officers located the "fleeing" driver they obtained footage of the accident. It is unclear if the second male pictured in the video was the Tesla driver checking to make sure everything was okay. Now Bates will be dealing with the consequences of falsifying a police report.
Today – even more so during the pandemic – drivers should be vigilant. Any bodily injury lawyer in Los Angeles would encourage Angelenos to equip a dashcam in their vehicles. It provides you with supporting evidence should you get into a minor or severe car accident. Videos can carry more weight than witness testimonials or written police reports in court. And like the Tesla driver, recording your drive can save you millions in the event of an "accident."