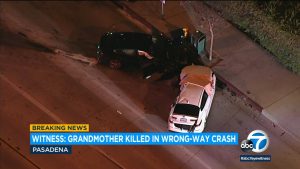 In Pasadena, a grandmother was pronounced dead after a tragic head-on collision. Occurring at the intersection of Glenarm Street and Fair Oaks Avenue around 8:30 in the evening, the Pasadena Police Department reported that the other driver was speeding down the wrong lane.
A Los Angeles injury lawyer reported that the two vehicles involved were a black Audi and a white Kia Optima. From initial pictures from Air7HD, both vehicles showed massive amounts of frontend damage. The Pasadena Police Department revealed that two young children were in the Kia Optima. The children were rushed to the hospital with unknown conditions.
The Dangers Of Head-On Collisions
Any motorcycle accident lawyer Los Angeles will reveal that a head-on collision occurs when the frontend of two or more motorized vehicles collide. This type of accident is usually very deadly because of the force at which both cars collide. Any motorcycle injury lawyer will describe the force of a head-on collision as if you're crashing into a brick wall.
There are many situations in which a head-on collision may occur. Driver neglect is the most obvious cause that leads to an abundance of motorcycle and car crashes. Here is the list of the top causes of head-on collisions.
Wrong Way Wrecks
Just like the Pasadena car accident above, wrong way collisions are the most common type of head-on collision. These types of collisions usually happen at a highway entrance or exit ramp or on a one-way street. Contributors to this type of accident are fatigue and drunk driving. Many times, there is not enough room for either of the drivers to veer out of the lane as there typically is no other lane.
Swerving Over The Center Line
Any Los Angeles motorcycle crash lawyer can reveal that crossing the centerline is a surefire way to create a devastating accident. Whether the driver was distracted or there was a mechanical malfunction, entering the other lane can lead to a large amount of damage. The most common reasons that people swerve include drowsiness, distracted driving, and bad weather conditions.
Swerving into oncoming traffic is one of the main reasons car accidents victims contact an attorney for motorcycle accident compensation.
Speeding
Any Los Angeles injury lawyer will reveal that speed is a top contributor to high-cost accidents. When you have a vehicle at an accelerated speed smashing into the front of another vehicle, victims tend to suffer catastrophic injuries or even death.
Tired Driving
Your motorcycle accident lawyer Los Angeles will tell you that tired driving is a very dangerous situation. As a driver is drowsy and falls asleep behind the wheel, the results can be devastating. The drowsy driver can easily cross the lane and cause a disastrous accident in a matter of seconds, according to any attorney for motorcycle accident compensation.
Impaired Driving
Any motorcycle injury lawyer can tell you that impaired driving is a leading cause of many types of roadway fatalities. Whether the driver is intoxicated with alcohol or under the influence of a drug, they lose their ability to drive safely. Impaired driving generally has a driver that is drowsy, making poor decisions, and reacting much slower than a person who isn't intoxicated. Your Los Angeles motorcycle crash lawyer has likely dealt with many impaired driving cases that resulted in a head-on collision.