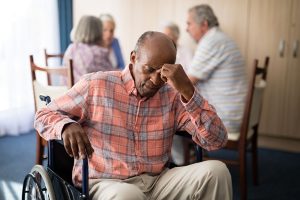 Unfortunately, nursing home abuse and neglect occurs all the time. If you are in Los Angeles and have noticed certain signs in your loved one, you need an experienced Los Angeles injury lawyer on your side. Knowing real stories of nursing home neglect can help you to strengthen your case with a nursing home abuse lawyer. You can then go forward with suing a nursing home for negligence in Los Angeles.
Alzheimer's Patient Falls Down Stairs
An 88-year-old woman was is an assisted living facility that claims to specialize in memory care. The woman had Alzheimer's disease and wandered off from the facility. Although she was known to frequently attempt to leave, she was neglected and freely got out. However, as she walked, she encountered a dangerous flight of stairs and fell, suffering fractures to her arm, hip and leg. The woman required surgery and extensive rehabilitation. A lawsuit was initiated with a top elder abuse attorney Los Angeles has to offer due to the failure to closely monitor her and for the dangerous stairwell.
Tailbone Partially Removed Due to Bed Sore
A 76-year-old woman was brought to a facility with small bedsores. Some of them were on her tailbone or coccyx. However, within under two weeks, the bedsores got significantly worse. She wasn't provided with the necessary medical care needed to treat her condition. She soon developed a fever and was transferred to a hospital. Doctors were horrified to see that her wound was so bad that her tailbone, which was partially exposed, was infected. She was given surgery and part of her tailbone was removed. Sadly, the woman's condition worsened and she died three months later.
Bed Rail Strangulation
A 91-year-old woman was discovered dead on the floor of her room in a nursing home after her head got stuck in the rails of her bed. The woman, who suffered from Alzheimer's and dementia, was suspended by her neck from the rail on the side of her bed. This happened because the staff was not properly trained about the risks associated with bed rails to patients who suffer from Alzheimer's or dementia. This case is a perfect example of suing a nursing home for negligence in Los Angeles.
Catheter Neglect Infection
An 83-year-old patient at a nursing home sadly passed away as a result of urosepsis. The victim suffered the infection after their catheter was neglected and not properly cleaned and cared for, ultimately leading to death. A Los Angeles injury lawyer handled the nursing home neglect case for the family.
Resident Assaulted by Fellow Resident
A resident at a nursing home specializing in Alzheimer's disease was assaulted by another resident where he was tossed to the floor during the attack. The victim, who was otherwise healthy prior to the incident, suffered from a bad hip fracture and needed surgery. Afterward, his health suffered and he died two months after the assault. A nursing home abuse lawyer was needed to take the case.
If you have a loved one who has suffered abuse or neglect in a nursing home, you need the best elder abuse attorney Los Angeles has to offer. Suing a nursing home for negligence in Los Angeles isn't easy, which is why you need a skilled attorney to help you get your claim started.