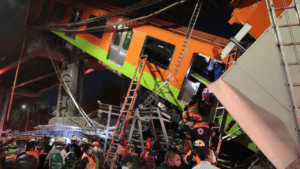 On the evening of May 3rd, an elevated train derailed in Mexico City when the concrete overpass collapsed beneath its tracks. According to NPR, nearly 23 people were confirmed to have been killed, and nearly 80 other passengers were injured and transferred to nearby hospitals.
As for trapped passengers, "We don't know if they are alive," Mexico City Mayor Claudia Sheinbaum issued in a statement. Children were among the number of fatalities and injured persons.
Immediately after the train accident, the cars dangled over and alongside the rubble, making it difficult for first responders to access or passengers to escape from the disaster. It was reported that given the position of the accident, and the amount of surrounding wreckage stalled a safe search for trapped passengers. The most they could do was to bring in a crane to help clear the site for emergency responders.
Is the City at Fault?
The derailment was reported to happen on Line 12 of the subway system at Olivos Station. It flowed through the city's south side and is the newest of the metro system. With it temporarily closing, everyday passengers should expect to see significant delays as investigations are underway. With so many people falling victim to or being involved in a train derailment, there will be a high influx of personal injury and wrongful death cases against the city.
The Associated Press reported that Foreign Relations Secretary Marcelo Ebrard can face serious consequences for the train accident. Line 12 was built during his time as mayor of Mexico City from 2006-2012. After leaving office, the structure was criticized for its insufficient structure and poor construction. Although it was closed in 2013 for repair, a disaster of this magnitude makes the city liable for all damages caused.
What Are People Saying?
Photographic and video evidence of the accident shows the overpass collapsing suddenly, causing train cars to crash into each other and the road below. Residents have been concerned about the integrity of the overpass, especially after an earthquake a few years ago. Hernando Manon, who lives in the area, was one of many who visually noticed cracks in the concrete according to The New York Times. Although it was addressed and fixed, he is not certain about the scope of repairs.
Train accidents seem like a rare occurrence but happen frequently. There are often warning signs that failed to be addressed by the train company, train crew, third-party businesses, or maintenance crew leading up to a fatal crash. If it had been, wrongful deaths would have been avoided. If you were injured or lost a loved one in a terrible accident, Los Angeles personal injury attorney David Grey will work tirelessly to fight for your rights and hold all negligent parties accountable.  Contact the attorneys of Grey Law to get justice.