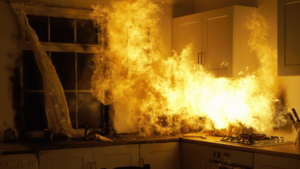 In 2019 the U.S. Fire Administration (USFA) reported a total of 1,291,500 fires and 16,600 injuries. Sadly, most of them happened within residential buildings from cooking mishaps, electrical malfunctions, open flames, and carelessness. When bringing a lawsuit against a negligent resident, homeowner, or driver, the petitioner must have sufficient evidence to support an injury claim. At Grey Law, our Los Angeles injury attorney has recovered millions for clients and knows how to recover maximum damages for the injuries you sustained in the incident.
Predicting when a fire will break out is unlikely, but you can certainly plan. At that moment, healing should be your priority. But to file a proper lawsuit, petitioners should act quickly to give fire injury attorneys ample time to investigate. They will gather crucial information from you or independently, such as:
Statements from Clients/Victim
Victim statements are critical components of a burn injury lawsuit. An attorney will ask you several questions to capture your side of the story in video or writing. It should happen right after the incident versus weeks later.
As attorneys, we are responsible for ensuring that you have not been in contact with anyone else. Insurance adjusters can guilt you into admitting fault and diminish the number of damages you can recover from the fire. The statement must include how it impacted your quality of life (ex. changes in income, work, etc.).
Statements from Witnesses
A witness statement offers a new perspective and sheds light on overlooked details of the burn accident. They often get taken by police officers investigating the scene. Because burn injuries can be dire, you may have to wait for a professional. If the incident happened on the highway in a car accident, the Federal Highway Administration has authority over this jurisdiction and will investigate separately.
Similarly, it is just as important to have photographic evidence. If possible, try to snap a few photos of your injuries and take a video of the scene.
The Power of Medical Reports
Medical reports document the physician's care, including procedures, costs, and details of the burn injury. The case requires reports from each party to determine if someone had pre-existing conditions that may impact the nature of the accident. Choosing not to go to the doctor can hurt your chances of reaching a full settlement. Each cost will get factored in for financial restitution.
Service History
Did you get burned in a car accident or motorcycle crash?
Ask your attorney to request a copy of the defendant's vehicle service history. Sometimes, it can help determine if a defective part caused the accident or lack of maintenance.
The First Few Moments After an Accident Matter
Photographic evidence and documentation make a difference when it comes to winning. From the moment you get hurt, try to collect as much information as possible to show how the accident caused your wounds. Your injury attorney in LA will investigate and incorporate those details to build a strong foundation for your case.