Contact a Los Angeles Bike Accident Attorney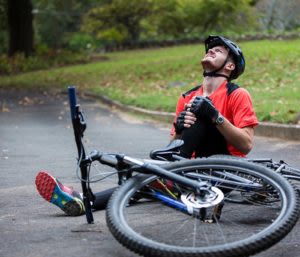 Riding a bicycle is good for exercise and is a relatively inexpensive form of transportation. You're not spending money on gas and maintenance as you would with a vehicle.
A helmet and pads for your knees and elbows are the main and only protection in case of an accident. You don't have an exterior frame to protect you in the event of a collision or crash. As such, the consequences of a bicycle accident can prove severe, if not devastating or deadly.
If you are involved in a bicycle crash or a spouse or family member dies from such an incident, you need to promptly contact a road bike accident attorney in Los Angeles who can pursue claims for damages on your behalf. Below are typical damage elements.
Medicals
Damages normally fall in the category of either economic, or out-of-pocket, damages and non-economic ones.
Medical expenses constitute a significant portion, if not the majority, of economic damages. When a motor vehicle hits a bicyclist, these losses can prove substantial. The medical bills can come from the ambulance, emergency room, extended hospital stays, surgeries, rehabilitation and follow-up treatments. If you're a victim, you will likely also have prescription costs.
With head trauma and perhaps broken bones, you will likely incur future medical expenses even beyond a lawsuit or settlement. As a result, you need a bicycle accident lawyer to carefully evaluate your future medical treatment needs to ensure you have sufficient compensation for the future.
Loss Of Wages And Earning Capacity
A bicycle accident can cost you numerous days, weeks or months of missed work. These lost wages also represent part of the potential damages you can recover from a bicycle accident.
If you suffer from head trauma or fractures, you might have an extended time of disability and a significant impairment of your motor or mental faculties. In this category there are conditions such as forgetfulness, the inability to lift or otherwise move objects, operate vehicles or other equipment and a lack of cognitive reasoning skills. All or many of these impacts factor into your disability and ability to earn wages in the future. Seeking legal representation is important to help you throughout this process.
Pain And Suffering
Pain and suffering represents a non-economic damage because it's very difficult to place a dollar figure on it. That is, there is no out-of-pocket cost. This category of recoverable damages includes the physical discomfort, emotional and other scars from the accident.
Due to the non-economic nature of pain and suffering, California law limits the amount of pain and suffering and other non-economic damages you can recover. This is expressed as a multiplier of your economic damages. If the court applies a multiplier of four to a total of $200,000 for economic losses, the limit on pain and suffering and other non-economic damages would rest at $800,000.
Even with this cap, a Los Angeles personal injury attorney has the knowledge and skills to find you adequate compensation for your suffering. The severity and duration of your injuries and disability influence the multiplier employed by the court. Fractures or lacerations of your skin bring considerable and lasting pain and discomfort. From a bicycle crash, you might have disfigurement that could negatively impact your ability to socialize or to spend appreciable time in public. When you meet with your lawyer you will be able to discuss how limited your daily activities or social interactions have become.
Loss Of Consortium
If you are the spouse of an injured cyclist, you may have a claim for loss of your spouse's care and companionship. These loss of consortium claims fall under the non-economic umbrella of losses.
To pursue such a claim, tell your attorney about the accident and how it has reduced your travel, vacations and recreational activities together. Photographs or videos from cruises, hikes or other vacations together can potentially impact jurors in a powerful way. Loss of consortium also compensates you for the loss of care that your spouse provided you and the extra care you must now render to your spouse.
Wrongful Death
Bicycle accidents often take deadly turns, especially when the collision involves a car, truck or other vehicle. If the other driver's carelessness results in death, the estate and the spouse, domestic partner or heirs of the victim may have potential wrongful death claims that an attorney can address.
The capacity in which you prosecute a wrongful death claim affects the damages you can seek. At a person's death, the court will open an estate to collect and manage the decedent's property and pay debts. If the cyclist dies at the hands of another, the estate will have a wrongful death claim to pursue medical expenses related to the emergency room or hospital services, surgery and other final treatments caused by the crash. Other damages to the estate include lost wages and what the decedent would have earned had he or she not been killed.
Survivors of the decedent, which can include the spouse, children or domestic partner, can recover compensation in the form of lost companionship, future financial support and the services rendered to the survivor's household.
Exemplary Damages
Personal injury law aims to compensate victims of negligence in bicycle accidents and other forms of personal injury accidents. When the actions of the wrongdoer exhibit reckless disregard for others' safety, intent to harm or malice, you may have a claim for punitive damages. A lawyer may ask a court to award you these exemplary damages to make an example of a tortfeasor who acts egregiously. Such acts may entail driving under the influence of alcohol or other drugs, excessive speeding or conduct that might qualify as an assault and battery using the vehicle.
If you find yourself a victim of a bicycle crash, contact a trusted road bike crash lawyer to pursue these and other damages that arise from another's carelessness or otherwise unlawful behavior.