Recover Compensation For Your Injuries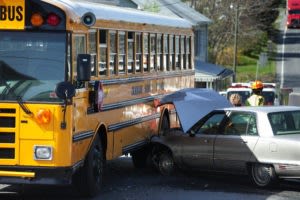 A bus is a vehicle designed to carry large numbers of people or cargo. The size of a bus makes it vulnerable to causing serious injuries when in an accident. Victims of these accidents have been severely injured, unable to work, provide for their families and more. A Los Angeles bus crash lawyer understands what is involved when a multi-vehicle crash takes place.
Bus Accident Statistics
It is estimated each year over 359 million people ride public transportation in some capacity.
Over 10 children die from accidents involving school buses every year.
There are over 27 billion combined passenger miles counted each year utilizing transportation services.
Within a nine-year span, motorcoach companies experienced a fatality rate of over 4.2 passenger deaths for each year.
In the United States, more than 29,000 buses are used for charters, tours, special operation as well as other regular route services.
In the United States there are more than 3,900 motorcoach companies operating.
Public Transit Bus Accidents
Many people depend on public transportation to get them where they want to go in specific areas. It is considered a type of travel that is inexpensive, convenient and eco-friendly. Many cities work hard to promote public transportation – that many depend on. This high rate of use can cause significant wear and tear on public buses. There are governmental organizations responsible for making certain they are safe to operate. Improper service or poor maintenance can be a risk for causing an accident. This could result in people being injured and other vehicles on the road being damaged and more.
School Buses
On any given school day in the United States, there are over 449,000 school buses actively transporting more than 23 million elementary, middle and high school students. Many of these school buses don't have seat belts for the children to wear. This can create a dangerous situation. Due to a high volume transporting children on a day-to-day basis,  accidents are going to happen. While most are minor, there are other accidents that are very serious. Some of these accidents do result in fatalities. Certain precautions should be taken to avoid a devastating collision from taking place.
Shuttle Bus Accidents
Resorts, hotels, airports and various other large establishments utilize shuttle buses to provide transportation for their guests. These vehicles make transporting a large number of people very easy. The size, as well as the shape of a shuttle bus, makes them more prone to be involved in an accident when compared to other types of buses. They have an awkward shape, making it difficult to maneuver. Their constant stopping causes blind spots on the road.
Freight Bus Accidents
A freight bus is usually used as a way to transport cargo. Many times when these vehicles are used, there are people on board. These are large vehicles that have been made to easily carry heavy loads. Like all vehicles designed to operate this way, they are subject to legal weight limits. Too many times a company or its driver will overload the freight bus they are using. This will make it more difficult to operate in almost every situation. Transporting an oversized load is illegal, and a serious risk prone to causing an accident.
Commercial, Private And Charter Buses
These buses are often used as part of tours. Some companies who operate them will provide these private buses for parties. It is also possible for them to be used as part of casino excursions and other types of entertainment activity. Some of these are made to be luxury buses. Too many times a private company won't properly maintain them or employ drivers who are not licensed to drive them. When this happens, it can result in serious accidents.
Bus Accident Lawsuits
In most cases, a lawsuit involving any type of bus accident is very complicated. It would be difficult for a person not experienced in law to manage it. These accidents often involve multiple witnesses which creates many different accounts of the accident. This type of lawsuit could involve more than one insurance company, multiple municipalities as well as private companies. Each of them is trying to protect their interest in this situation. It is always best to speak with your legal counsel before talking to an insurance company. They will know how to protect an accident victim's rights. A Los Angeles personal injury attorney will help people avoid signing over their confidential information like giving insurance companies the right to view their medical history and more.
Higher Standard
Any person who drives a bus is going to be looked at differently than someone who simply drives a car. The law holds them to a higher standard. This is especially true for anyone driving a school bus, city bus or commercial vehicle. Drivers for national bus companies are required to abide by strict interstate regulations covering how many hours they can drive and how much sleep they've had in recent days. Should it be proven a driver disregarded these laws, they could be liable in criminal and civil court.
Determining Damages
An accident victim in a civil case has the right to recover any and all reasonable and necessary medical expenses as well as any income lost as the result of the bus accident and more. An accident victim could also be compensated for their pain and suffering. An attorney who is experienced with personal injury claims can help accident victims realize should their injuries get worse, the amount of fair compensation they should receive should increase. If a court determines a driver is criminally at fault for an accident, the victim may be able to sue for punitive damages. These are damages awarded to financially punish those determined to be at fault for the accident.
Being the victim can be a traumatic experience that may forever change a person's life. It is important to speak with an attorney as soon as possible. They will know how to protect a victim's rights and make certain an insurance company does not take advantage of them. Pursuing a legal claim can be difficult on your own, but a lawyer is able to quickly file for fair compensation.