Workers' Compensation Attorney in LA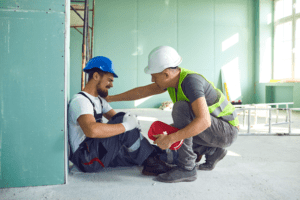 On-the-job injuries happen when you least expect it and can have devastating effects on not only the victim, but their family as well. The severity of an accident will determine the number of unwelcome changes that come your way. As an employee, you should feel safe on and off site. While a construction manager is liable for overseeing the safety of their crew, you are responsible for following protocols, dressing appropriately, and remaining vigilant. When you or a loved one has been injured working on a busy site, you need the help of a truly experienced construction accident lawyer in LA. Particularly a legal professional that is willing to fight for you.
Victims of workplace injuries find themselves accruing debt quickly from unpaid medical bills and debt directly associated with living costs. Most accidents tend to be catastrophic, causing severe or permanent harm to one's body. To alleviate stress associated with financial hardship and help victims make a complete recovery, California law strictly oversees workers' compensation and related benefits. In this article, we review how to file a claim if you were hurt working in dangerous conditions due to the negligence of an employer, main contractor, or third-party business.
Eligibility for Filing a Workers' Compensation Claim
We can assure you that it may take time before you can get back on your feet. Most job-related tasks on a construction site require physical labor such as: building scaffolding, operating concrete mixers, drilling, sawing, and more. As Los Angeles personal injury attorneys, we have a deep understanding of what you do. When your tasks range from easy to difficult and hazardous, you should know how to report an injury and when to reach out to a lawyer when needed.
Like other occupations, when you sustain workplace injuries doing construction work, you may be eligible for workers' compensation benefits. In California, workers are protected under California's Workers Compensation Act. The law states employers are required to pay for medical treatment and partial wage replacement while eligible employees are recovering. Injuries and illnesses must be work-related.
Coverage for Construction Injuries
People tend to assume that just because they are injured on the job, workers' compensation benefits will automatically be provided. It is not. Attorneys for construction safety incidents strongly recommend that victims file a claim on time. A written notice should be submitted or handed to your employer within 30 days after the date of your injury. Failing to do so risks your chances of getting the financial assistance you need. Workers' compensation benefits are likely to cover:
Expenses for medical bills, medications, cost of living.

Lost wages while you take time off to recover.

Partial or permanent disability (from

burn injuries

to falling debris and machinery malfunctions).
Workers' compensation operates as a "no fault" system, meaning you are not required to prove the site managers' negligence caused your injury. You have to verify that you were injured, and it occurred on site while you were working. However, employees that count on workers' compensation may be exchanging their right to pursue other damages for pain and suffering later. At Grey Law, our Los Angeles attorney for construction accidents can help you fill out the necessary forms and fight to prove your case to get you much needed benefits.
Filing a Workers' Compensation Claim (DWC-1)
After filing a written report, your employer should provide you with a workers' compensation claim (DWC-1) to fill out. You should also receive supplemental information about your rights and eligibility for benefits and information about the workers' comp process and what must be done for full coverage. If you did not get a notification, or proper paperwork it can be downloaded from the California Workers' Compensation website. Under Cal. Labor Code § 5401 (2020), your employer has to fill out their portion before it is submitted to an insurance company for review.
Can Workers' Still Bring A Lawsuit for Damages?
Yes, you can. While workers' compensation intends to provide employees with rapid relief when they get hurt, it won't cover all of your concerns. There are five exceptions to this California law, in which employees can sue for work-related injuries, such as:
Getting physically assaulted by an employer, resulting in harm.

The injury worsened by something pertaining to employment, illegally concealed by the employer.

At the time of injury, you were not employed by the construction company (dual capacity).

Machinery was improperly set up before use.

The employer did not have workers' compensation insurance when the injury took place.
Normally in construction you may work closely with other subcontractors or vendors. With several parties involved in all aspects of your job, it can be hard to determine liability. Architects and engineers off site are just as responsible for equipment malfunctions or crashes as employers would be. An attorney for LA construction injuries can review your claim to see if you have a strong case against everyone involved.
Negligence and the Duty of Care
The negligent acts you endured should not go unreported. A strong component of your case is proving your employer had a "Duty of Care" to protect workers, like yourself against injuries. For example, a site manager may have provided you with a defective tool or drove recklessly resulting in an accident. Whatever the reason may be, if an employer did not act with caution to avoid injuries, he/she will be liable. Though, if your injury was caused by heavy machinery, it may be due to faulty design and poor manufacturing. In this case, any legal action you and your lawyer take will be in the form of a civil suit for product liability. The designer, third-party business or other entities not directly associated with the construction site will be listed in your claim.
In the end, construction workers do physically demanding work. You deserve top-of-the line representation when you get hurt. We are well-versed in California State workers' compensation laws and are available to answer any questions or concerns on how to best help you though your situation.
About Grey Law
"When it comes to getting you more, I won't settle for less." – David Grey
When you or a loved one are injured due to negligence, carelessness, or wrongful acts of another person, David Grey is ready to help. Seeking compensation or negotiating with insurance companies can be stressful, especially while recovering. Let us do that for you. Our Los Angeles personal injury lawyers are well-versed in several practice areas:
Traffic Accidents

Premises Accidents

Personal Injuries

Product Liability

Nursing Home Abuse
Why do you need a lawyer for accident compensation? With thousands of lawyers in California, we understand it can be difficult to choose the right legal representation. We have 35+ years of experience and secured millions for our clients. From the time you retain our firm, we build your case. For a free case evaluation and consultation, reach out to us at 323-768-0497 or email info@greylaw.com.