Who is At Fault For Open Car Door Motorcycle Accidents?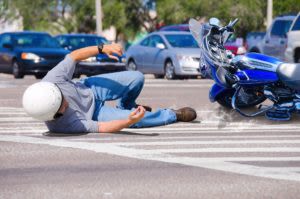 Motorcycle riders are often injured when someone hits them when they open their car door. This can happen when the passenger or driver gets out of the vehicle once they are parked and do not check to see if it is safe to get out. People are required to look before they get out of their car. It may seem as though it would be obvious to tell who is at fault; however, the cyclist can be held responsible in some cases.
That is why it is a good idea to hire a Los Angeles motorist crash lawyer.  Experienced attorneys are able to use their knowledge and legal expertise to prove that the other party was responsible for the accident. A prosecuting attorney can also help you decide whether it is best to settle or take the case to court. They are trained to go up against the insurance company.
Why It Is A Good Idea To Hire A Los Angeles Personal Injury Attorney
A motor vehicle accident lawyer will work around-the-clock to make sure that you get compensated for medical bills, lost wages and suffering. They can also make sure that you are compensated for current medical expenses resulting from the accident, as well as in the future. If you have a family member who was killed in an open car door accident, then you will need to file a wrongful death lawsuit.
However, insurance adjusters try their best to come up with ways to blame the injured person for their injuries. Many open car door accidents occur because the driver cannot see the motorcycle when they open their car door. This can cause the cyclist to swerve into the traffic. Some of the following things can cause an accident.
Failure to look- The driver or passenger may fail to look for other vehicles. They may see the vehicles, but they do not see the motorcycle.
Illegally parked vehicles- If a vehicle is illegally parked, then they may try to get in and out as soon as possible. That is why they may fail to check for other vehicles.
Right-Hand Turns- Motorcycle riders have to move to the right lane before they turn right. This can cause them to get too close to vehicles that are parked on the other side of the road.
Poor Visibility- Poor weather conditions can make it hard for people to see.
Road Debris/Defect- A motorcycle rider has to act quickly in order to avoid the debris on the road. This can cause them to end up in an area where they can be hit by an open car door. You may be able to file a lawsuit against the public entity that is responsible for maintaining the roads.
Riders are responsible for making sure that the area is safe. However, both passengers and drivers are required to check for other vehicles before they get out of the car. The California Vehicle Code (22517) says the following.
No one should open their car door before making sure that it is safe for them to get out of the car. They should also not leave the car door open longer than necessary.
The person who opened the door will typically be held responsible for the injuries that the motorcyclist incurred. However, if the victim was speeding, then they can be held liable for causing the open car door accident. They can also be held responsible if there is not any traffic.
You can still get compensation if you are partially responsible. However, the amount that you can get will be reduced. For example, the driver is 70 percent responsible for the accident. The rider is 30 percent responsible. The compensation will be reduced by 30 percent.
Common Injuries Caused By Open Car Doors
If a rider is hit by a car door, then they may be thrown off of their bike; they may also end up beneath it. This can cause catastrophic injuries such as the following.
Brain and head Injuries
Internal bleeding
Neurological damage
Loss of limbs
Permanent scarring
Lacerations
Road rash
Paralysis
Spinal cord injuries
The serious injuries are not the only aftermath of a car accident. People are often financially burdened because they do not know how they are going to pay their medical bills. They may also be emotionally burdened. It can make all the difference when you know you have aggressive, knowledgeable and compassionate representation on the path of recovery.
How A Motorcycle Accident Lawyer Los Angeles Can Help
Legal professionals know that it can be difficult to deal with the aftermath of a motorcycle accident. That is why they work hard to get you the funds that you deserve. The type of compensation that you get will depend on the circumstances surrounding your accident. You may be able to get economic damages that cover your medical bills, lost wages and other types of financial losses.
You can also get non-economic damages. This includes permanent disability, pain and suffering and similar harm. We believe that no one should have to suffer because another person was negligent. We not only want to help you get your economic and non-economic damages, but we also want to make sure that the other party is punished. You can contact us today for immediate consultation with us.