File a Bar Fight Accident Claim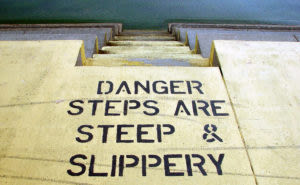 Owners of bars, restaurants and other business properties that serve the public are responsible for taking reasonable measures to protect their clientele from assault and injuries caused by unruly or drunk customers.
Los Angeles security negligence attorneys at Grey Law know that bar fights should not be taken lightly.  An assault or battery charge under premises liability law is a serious offense.  If you suffer injuries from a serious fight you need to speak with the attorneys for premises liability claims at Grey Law immediately.  Our attorneys consult with experts and specialists to determine the impact of the injuries on our clients' lives, the precise detail of the assault and the conditions that made the attack possible.  Cases such as these involve premises liability law.  Our attorneys have over 25 years experience handling these types of claims as well as the knowledge to be able to evaluate negligent security cases quickly and advise clients about the best course of action.  Contact us today at 323-210-4504 for a free legal case evaluation.
If you were injured in a bar fight, or were otherwise assaulted on the premises of a private business or municipal property, you are entitled to seek full and fair money damages for all your injuries including:
Reasonable past and future medical treatment
Past and/or future lost wages
Past and future lost fringe benefits of employment
Past and future pain and suffering
Mental anguish and emotional distress
Loss of enjoyment of life
Out-of-pocket expenses for things such as transportation to medical providers and medical co-pays.
When an apartment complex, bar, retail store or other business has a history of security-related issues, or their security consultant/company has a duty to take action, they may be held liable for your injuries.  The Los Angeles premises liability attorneys are experienced in premises liability and negligent security cases involving:
Broken windows or locks
Hanging fire escapes
Improper lighting
Inadequate security
Failed maintenance
Shopping mall/parking lot attacks
Office space attacks
Sexual assault
Hotel assaults or break-ins
Apartment complex security breach
Bar fights and restaurant attacks
No one is or can be expected to protect against every possible accident or crime that could be committed.  When there are reasonable measures that could be taken to prevent injury or harm, but the measures were not implemented and injury resulted, the responsible parties may be held liable.  Reasonable safety measures may include:
Bouncers and security for bar fights
Hotel security
Camera and surveillance systems
Adequate lighting
Security guards
Alarms
If these and other precautions are not taken, innocent people may become victims of crimes including robbery, theft, assault, sexual assault, abduction and murder.  In addition to the physical injuries associated with these crimes, emotional trauma may accompany these events.  An accident injury attorney in Los Angeles at Grey Law will consider all of these aspects when pursuing compensation.
If you have been assaulted, robbed or violated while on another person's property, you may be able to file a premises liability claim against the owner of that property.  Businesses and privately owned properties have a responsibility to reasonably provide for the safety of those individuals who are present on the property, including the prevention of foreseeable criminal attacks on the premises.
 LOS ANGELES BAR FIGHT LAWYER
Negligent security claims are often complex and require thorough investigations.  The Los Angeles negligent security attorneys at Grey Law have the skill and experience to handle your negligent security claim with confidence.  We will pursue compensation from property owners who have failed to provide for your security, including medical treatment, lost wages, pain and suffering and other expenses resulting from your injuries.  Contact us to learn more information about premises liability, negligent security and your rights under the law.  Call for a free legal case evaluation at 323-210-4504.