Contact a Swimming Pool Accident Lawyer Today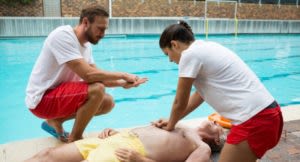 When it is a hot summer day and you have the best swimming pool in the neighborhood, your place will be the popular spot for kids and adults alike. While most of the time everything is nothing but fun and games, the fact is numerous people have accidents or die from drowning while using private pools. Though this is a topic you likely give little if any thought to on those hot summer days, it can quickly become very important should someone get injured or die while using your pool. Rather than get caught not knowing how particular laws may affect you in these situations, here is some crucial information to keep in mind and why it will be vital you rely on the experience and knowledge of a Los Angeles drowning accident lawyer from Grey Law.
Liability and Negligence in Swimming Pool Accidents
In many of these cases, those who own the swimming pool believe they are not responsible for any accidents or injuries due to the fact that they may have posted "No Trespassing" signs on their property. However, this rarely guarantees they will not be sued should an accident occur in their pool. In fact, it is imperative you make sure your pool is in no way whatsoever accessible to neighbors, strangers, or anyone else. If you fail to do so, you may have liability issues staring you in the face, since most liability laws state pool owners are responsible for what happens in their pool both when they are home supervising pool activities and when they are not, especially if negligence can be proven. Due to the complexities that always surround these cases, rely on our lawyer, who clients trust to handle these situations.
Duty to Prevent Harm
To protect yourself against accusations of negligence, you must do everything reasonably possible to maintain a safe environment in and around your pool. For example, if you have guests at your pool, always monitor their alcohol consumption and make sure children are never left unattended in or near the pool. Along with this, if you have fences around your property where the pool is located, you must make sure the fences are high and can be locked from within. By doing so and also making sure there are no other ways neighborhood kids can sneak onto your property and into your pool, your attorney would be able to argue in court that you did everything possible to protect your duty to prevent harm.
Attractive Nuisance
Strange as it sounds, there is an aspect of liability law known as attractive nuisance. This concept, which states small children will be tempted by dangerous terrain, makes property owners responsible for drawing these children to their property by owning a swimming pool. A swimming pool on a hot day fits the bill for an attractive nuisance, and is often used by defendants in these cases. If facing such a situation a personal injury lawyer in Los Angeles will plan legal strategy against such claims.
Property Insurance
Though it may sound unfair to you that you may be held liable if people are swimming alone in your pool without your permission and thus have an accident or drown, that is unfortunately what you face in these situations. Because of this, one of the best ways to protect yourself from these situations is by having property insurance. Though it usually costs quite a bit to maintain a pool, it is also important you spare no expense when it comes to purchasing property insurance that will cover accidents related to your pool. Since many different things can go wrong in or near a pool, such as electrocution, improper use of pool chemicals, and other situations, always make sure you have property insurance that will protect you from whatever may result. If an accident occurs, do not hesitate to consult with a lawyer for legal advice.
Always Speak to an Attorney
Those injured in a private pool should speak with a lawyer that is well-versed in pool accidents.. In doing so, they can build a strong case to gain compensation for medical expenses, pain and suffering, and possibly punitive damages. Due to the many complexities that can evolve as these cases play out, never put your trust in attorneys who rarely if ever handle such cases. Instead, schedule an immediate consultation to review and discuss your case in greater detail.
Contact a Los Angeles Swimming Pool Accident Attorney
If you or a loved one was injured or killed in a swimming pool accident due to the negligence of another, then you may be eligible for compensation to cover any costs incurred due to this incident. At Grey Law, we understand how difficult it can be to deal with the repercussions of a swimming pool accident, which is why we urge you to get in contact with us so we can help you every step of the way.
Our team will do whatever it takes to make sure that the property owner is held responsible for your injuries. Medical expenses, pain and suffering, lost wages, and so much more can easily add on to your expenses stemmed from the accident. It should not be your responsibility to have to deal with the consequences on your own.
At Grey Law, we have acquired millions for our clients over the years and we have an abundance of experience that we are extremely proud of. We take pride in representing victims of personal injury cases of all kinds, including swimming pool accidents. We specialize in swimming pool accident cases and will make sure that our clients get the justice and compensation they deserve for their losses.
To learn more about how we can help you, feel free to contact our office any time to speak to a Los Angeles swimming pool accident lawyer.