Free Consultation With a Lawyer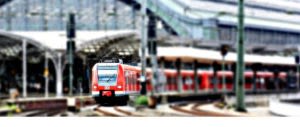 Unfortunately, train accidents are a lot more common than most people may think. There are a number of scenarios in which a train accident can occur, such as when a vehicle stalls on railroad tracks, train operators become distracted, train malfunctions, or faulty railroad crossing signals. Whatever the case may be, train accidents can cause a serious impact in someone's life, resulting in devastating results.
Not only do train accidents cause a physical impact, but an emotional and financial impact as well on the victim and his or her family. Thankfully, there are options for victims and their families to get the justice and compensation they deserve for the losses that they endured. At Grey Law, we specialize in train accident cases and have won millions in return for our clients and their losses. We understand how devastating the repercussions are, which is why we will do whatever it takes to help victims get back to where they need to be–physically, mentally, emotionally, and financially.
If you or a loved one has fallen victim in a train accident due to another party's negligence, it is in your best interest to contact a train accident lawyer Los Angeles to get the help you deserve and need.
We understand that trains are a convenient and cost effective option for commuters, as they get you to and from places of long distances; however, accidents do happen. When they do happen, the repercussions are more likely to be very serious than not. The reason as to why trains are significantly more dangerous as opposed to accidents involving other vehicles is simply because they travel at extremely high speeds, do not have seat belts, and several other reasons.
The Most Common Causes of Train Accidents
Over the years, there has been several ways that have helped improve the safety of railroads and trains; however, they still do unfortunately happen. The most common causes of train accidents include the following:
Defective railroad crossing lights and/or signals
Distracted, fatigued, or inexperienced train operators
Unsafe road or railroad conditions
Train equipment malfunctions
If any of these hazards have caused you or a loved one to be injured or killed in a train accident, do not hesitate to reach out to a train accident attorney Los Angeles. We are experienced, dedicated, and aggressive attorneys who you can trust to have on your side during this difficult time.
Who Can Be Held Responsible for a Train Accident?
When it comes to mass transportation accidents, there are several parties that can be potentially responsible in a train accident. It all depends on the set of circumstances in which the accident happened. Our experienced Los Angeles train accident lawyer will be able to link each piece of evidence to the accident and will therefore be able to better decipher who is responsible for your injuries. There are several parties that can be held liable, including the following:
Train operator
Manufacturer of the train
The driver of the vehicle that caused the crash
What Compensation is Available in a Train Accident?
Anyone who has fallen victim in a train accident may be entitled to compensation for the damages they endured. No matter how the accident happened, you deserve compensation for your injuries, especially if the train accident could have been somehow prevented otherwise. The damages and compensation varies from case to case; however, here are the most common damages in a train accident:
Medical expenses
Lost wages
Earning capacity
Pain and suffering
Property damages
Wrongful death
Contact a Train Accident Lawyer Los Angeles
If you have been involved in a train accident, you should never wait to contact a personal injury lawyer Los Angeles. The longer you wait, the more of a risk that you run in preserving evidence. It is important that you get in contact with an attorney as quickly as possible, so that your lawyer can work on your case and get you the justice and compensation you deserve. We will work diligently to identify all the parties responsible for your injuries.
We will handle everything from finding the responsible parties, preserving evidence, talking to witnesses, hiring reconstruction experts, negotiating with insurance adjusters and train companies, and so much more.
Let us help you from start to finish. We offer free consultations and work on a contingency fee basis, which means you do not have to pay a thing unless we win!