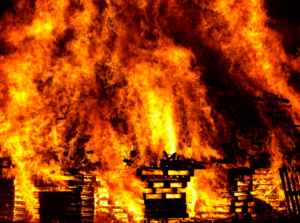 Being burnt out of a home fire is one of the most devastating things that can happen to a person. House fires produce flames, extreme heat, and smoke. In many cases, smoke can cause people a lot of harm. However, the heat and flames from a fire do the most damage to the property.
Most house fires are accidental. But there are fires that are set on purpose to claim insurance money, to exact revenge, or to cover up another crime. After the fire has been put out, forensic investigators will examine the premises and discern the cause of the fire. Once this has been done, a determination will be made as to whether the fire was accidental or purposely set.
Liability for House Fires
If you have been the victim of arson, the crime will have to be investigated and the person who set the fire tracked down and caught. This could take some time. However, if you rent or lease a property and it is discovered that the fire was caused by faulty wiring or some other defective feature of the infrastructure, then the owner of the property can be held liable for your injuries.
Getting Compensation for Burn Injuries
Burn injuries are serious. They can put you in the hospital for quite a long time. If the burns are grievous enough, you will need to undergo numerous procedures just to save your life. You will then need to go through extensive cosmetic and skin-grafting operations to make you whole again. The burns from a fire will leave you with life-long scars, and if you were burnt extensively in the upper part of your body and face, it will change your appearance forever.
You can claim damages from the landlord whose negligence ruined your life. Hiring a burn injury lawyer Los Angeles is the first step in the process. You will be owed money for the medical bills that will pile up while you are in the hospital. You will also be owed money for the lifelong suffering you are likely to incur. A burn injury attorney Los Angeles will gather all the evidence necessary to link the fire to the irresponsible behavior of the property owner.
If you have been burned in a house fire and you believe it is the fault of the owner, then you should contact our Los Angeles burn injury lawyer. Our Los Angeles personal injury lawyer will review your options for claiming compensation.